Movie Chains Say Attendance Shows Big Screen Is Here to Stay
(Bloomberg) -- The U.K.'s top cinema chains said big audiences for films from "Peter Rabbit 2: The Runaway" to "Nomadland" point to a strong emergence from lockdown and show the enduring appeal of movie theaters in the streaming era.
Cineworld Group Inc. said U.K. ticket income on the first weekend back was above its expectations, led by the success of the kids' action comedy inspired by the book of Beatrix Potter. Vue Cinemas said performance surpassed its expectations, with 40% of sessions selling out.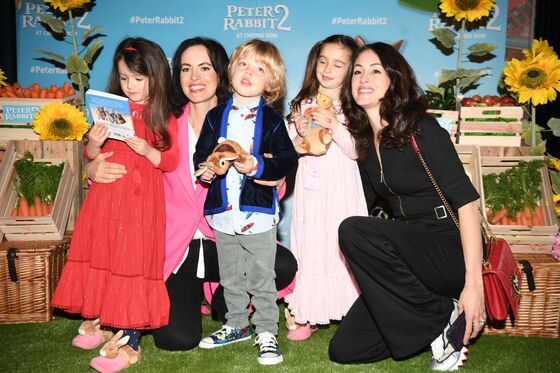 The next few months are critical for cinema owners who need big audiences to heal the financial damage wrought by the pandemic. Industry executives say film fans will crowd back to theaters, dispelling the idea that the rise of streaming is about to end more than a century of communal movie-going.
While some major titles went straight to streaming platforms during lockdown -- including "Mulan," "Wonder Woman 1984," and "Trolls World Tour" -- more were held back for an exclusive theatrical release.
The pandemic hiatus means cinemas will be packing about three years' worth of new releases into the next 18 months, including James Bond film "No Time to Die" and a "Dune" remake starring Timothee Chalamet, with most set for an exclusive run in theaters before they hit streaming platforms.
"The theatrical release has been, and will always be, the engine room for revenue streams in this industry," said Tim Richards, founder and chief executive officer of Vue Cinemas. "What we saw last year was screens closed globally. The subscription services did OK because that was the only game in town."
The problem for the movie chains is that the most important films are the property of global media companies whose streaming platforms have become their biggest driver of revenue growth.
To get their movies onto those platforms sooner, the studios have negotiated a shortening of the "theatrical window" -- the initial period in which a film can only be shown in theaters -- to around 45 days from between three and four months. That could force changes in how content deals are financed and how big studios generate income from their productions.
The studios got behind a major marketing push to get audiences back in theaters last week. Some movies have had a disappointing early performance in the U.S., including Chris Rock horror film "Spiral: From the Book of Saw."
Before cinemas shut their doors last year, studios derived almost half of their revenues from theatrical releases, according to data from consultancy company Deloitte. While the average number of movie tickets purchased in the U.S. each year has dropped to 3.4 in 2019 from 4.2 in 2009, studio revenues are driven more by their box office performance than two decades ago, Deloitte said.
Vue's Richards said there's nothing broken about a movie theater industry that reached record revenues of $43 billion in 2019.
"This is not a business that was suffering" said Richards. "I believe we're entering a second golden age of cinema on the back of an unprecedented line-up of movies and this pent-up demand for people to get out again and enjoy their lives."
Smaller U.K. movie chain Everyman Cinemas said early demand has been encouraging, with the award-winning "Nomadland" the frontrunner.
Cineworld, which faced doubts over its survival during lockdown, said action-adventure movie "Fast & Furious 9" had a record-breaking success in the Asian market and CEO Mooky Greidinger forecast a "good recovery" in attendance over the coming months.
Cineworld shares rose 3.1% to 89.52 pence by 3:52 p.m. in London on Monday after earlier gaining as much as 4.5%. The stock has risen 39% this year.
The next big test will be Walt Disney Co.'s "Cruella" starring Emma Stone that chronicles the origin story of the "101 Dalmatians" villain Cruella De Vil. The movie will appear the same day on streaming service Disney+, where U.S. subscribers can view it for an extra $30 fee.
"We expect next weekend's results to be strong," Greidinger said in a statement.