CI Financial Joins Finance Migration Trend With Miami Office
(Bloomberg) -- CI Financial Corp. is opening a U.S. headquarters in Miami, joining other finance and investing firms including Blackstone Inc. and Goldman Sachs Group Inc. that have expanded in South Florida since the pandemic began.
Toronto-based CI Financial plans to take up roughly 20,000 square feet (1,850 square meters) of office space at 830 Brickell, an office tower under construction in Miami's Brickell financial district.
"Miami is an incredible place to establish our U.S. headquarters and support our fast-growing U.S. business," Chief Executive Officer Kurt MacAlpine said Wednesday in a statement.
Private equity firm Thoma Bravo and technology company Microsoft Corp. have disclosed plans to establish offices in the same building. The property is being developed by OKO Group and Cain International for completion next year.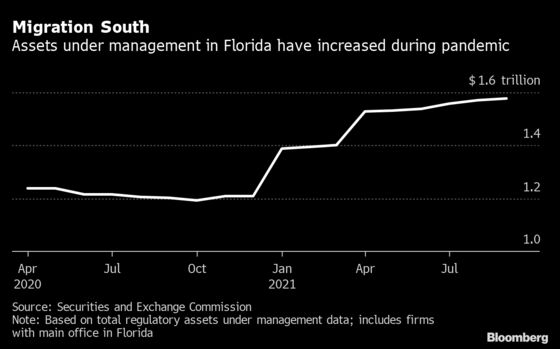 The assets under management in Florida climbed 27% to nearly $1.6 trillion since April 2020, one of the top increases in the country, according to Securities and Exchange Commission data. That doesn't include the many companies that established second offices.
Florida is still a far cry from the "Wall Street of the South" that its boosters dream of building. But the pandemic has provided a significant lift to those efforts by showing companies that workers can be efficient from anywhere and empowering employees to demand lifestyle choices outside of industry hubs such as New York and San Francisco.
Meanwhile, New York still has about 15 times more assets under management than Florida, but its share of the U.S. total slipped slightly during the pandemic to 21.6% from 22.8%. Florida gained market share from 1.3% to 1.4%. Other outperformers included Maryland and North Carolina.