Christmas Was So Good for U.K. Pubs That Customers May Be Broke
(Bloomberg) -- Champagne corks have been popping and roast dinners wolfed down over the Christmas period in the U.K., but one of the country's biggest pub companies warned their taverns may now be quiet for a while until customers get their next paychecks.
After reporting record sales as customers indulged over the holidays, Mitchells & Butlers Plc Chief Executive Officer Phil Urban warned the company "would expect trade to be quiet at least until people get paid again." That adds to the threat posed to alcoholic drink sales from "Dry January," the ritualistic month of sobriety that has come into fashion over recent years, plus the uncertainty around Brexit, which the company said makes it cautious about the outlook.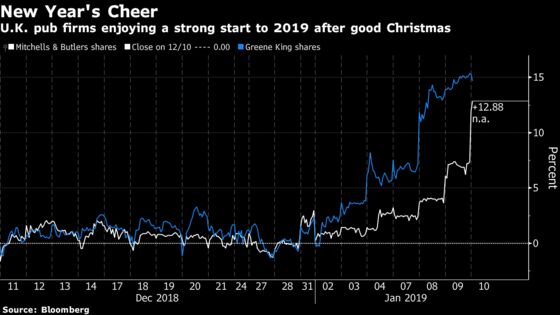 Still, the company said it had made a "good start to the year" and the record sales come among better-than-expected sales for retail as a whole. Both Mitchells & Butler and Greene King Plc issued positive sales updates this week, with customers spending freely on both food and drink in their respective establishments. Shares of both companies rallied after the updates.