Chrissy Teigen's Cravings Sees Bigger Sales With PayPal Tie-Up
(Bloomberg) -- Chrissy Teigen is hoping a tie-up with PayPal Holdings Inc. will lead to bigger sales for her cookware and accessories brand Cravings.
The cookbook author, model and television personality struck a multiyear deal to add to her website PayPal's offering known as Pay in 4, which allows customers to split up purchases into four payments. Users of the Cravings by Chrissy Teigen website already choose to check out with PayPal more than a third of the time.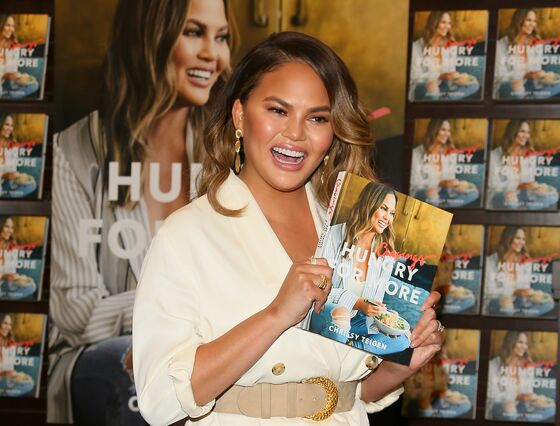 "Honestly, not a lot of people have that money to spend -- that $100 or $150 to spend in one go," Teigen said in a phone interview. "They might have a little bit of it right now and a little bit of it later, and we want to make that a completely fine thing for people."
With the agreement, Cravings becomes the latest U.S. retailer looking to offer a buy-now, pay-later option. Customers receive items right away and pay for them over time, usually in four installments and often without incurring fees. Consumers have swarmed to such financing in recent months, and the market is expected to quadruple to $352 billion by 2025.
PayPal, for its part, only started offering the service in the last three months of 2020. It now represents more than a third of sales on its platform from users under the age of 30.
"The biggest common denominator is price point," Greg Lisiewski, PayPal's vice president of global pay later, said in an interview. "For a $200 or $300 purchase, to take that and make it in four payments of $50, or four payments of $75, it's really helpful."
Teigen debuted the Cravings site in 2019, though she added the ability for customers to buy from her cookware line and other accessories only this year. Early results from allowing customers to split up their purchases into four payments show that the average order value rises by 34% on the Cravings site, PayPal said. Offerings on the site include a $64 cast-iron enamel skillet, an $88 linen robe and a $36 popcorn-seasoning kit.
"We try to put it out at an affordable price, but still people are going to need a little extra boost and a little help," Teigen said. "We've seen the benefits of it. It's a win-win all around."