Chipotle Isn't as Hard Off as Other Chains in the Outbreak Era
(Bloomberg) -- Chipotle Mexican Grill Inc. shares gained as much as 10% Wednesday after the company said its financial position is solid enough to sustain operations for "well over a year."
"We're in a good position to make the right investments for the long term," Chief Financial Officer Jack Hartung said in an interview. "We're still in the beginning stages of figuring out what do we do, what do we need, what signage do we need."
Chipotle will likely to invest in extra labor for more sanitation, and to help customers with social distancing while standing in lines and picking up meals, Hartung said. It's also spending millions on protective gear, including washable masks and thermometers for its 80,000 store workers.
The burrito chain ended the first quarter with $909 million in cash, restricted cash and short-term investments. "We believe we have enough cash to sustain us for well over a year," Chipotle said late Tuesday in a statement.
And with no debt, the company has flexibility to weather the pandemic that has upended the restaurant industry. Chipotle also said it won't need to seek loans under the government's Paycheck Protection Program.
Other restaurant chains, like Denny's Corp., Cracker Barrel Old Country Store Inc. and Olive Garden-owner Darden Restaurants Inc., have drawn on and expanded credit lines.
Chipotle's comparable restaurant sales tailed off significantly at the end of the quarter, falling to negative 16% in March after strong showings in January and February. The company said the metric hit a low of negative 35% during the week ended March 29, but improved in April.
The chain had been dependent upon busy lunchtimes, when lines frequently wrapped out the doors, something that disappeared when Americans started working at home.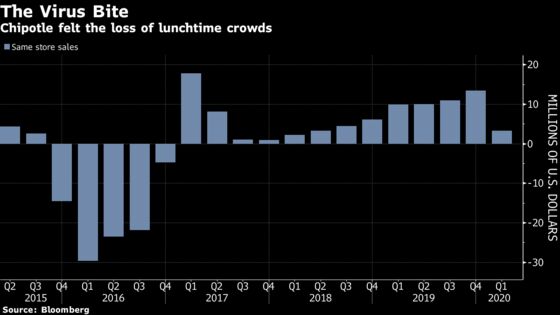 Like many companies grappling with pandemic uncertainty, Chipotle pulled its financial forecasts for 2020, including an earlier expectation that it would open as many as 165 new restaurants this year. The company's 49 new locations currently under construction are facing delays; the company has pushed back groundbreaking on others.
Still, Chipotle opened 19 new restaurants during the quarter, bringing the total to 2,638.
The company's order-ahead pick-up windows have proved more popular than ever, Hartung said. Only a handful of Chipotle locations have the windows now, he said, but the company is looking for landlord approval to convert some existing locations.
"The digital system has been a huge asset for us," he said. "We'll continue to invest in digital."