Chipotle Win Contrasts With Starbucks Washout
(Bloomberg Opinion) -- Brian Niccol's strategy of refocusing Chipotle Mexican Grill Inc. on restaurant basics is paying off. Starbucks Corp. could learn a thing or two.
Let's start with Chipotle. Shares of the fast-casual chain spiked more than 5 percent in post-market trading on Thursday after reporting second-quarter adjusted earnings-per-share and comparable sales growth that were better than analysts had expected. Chipotle's ability to positively surprise investors is impressive, given the more than 75 percent run-up in the stock since February when Niccol, the former head of Yum! Brands Inc.'s Taco Bell, was named CEO.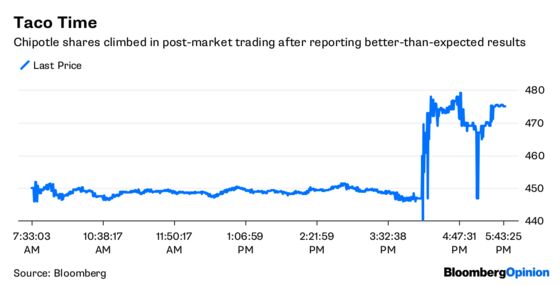 Investors have been enthused by Niccol's efforts to increase Chipotle's digital sales, revamp marketing and experiment with new menu items. They've also been encouraged by what he's not doing: He's not plunging blindly into different meal categories like breakfast, and he's not trying to fix Chipotle's problems with a glut of new restaurants.  
To that end, it's a good sign that Chipotle attributed the increase in its same-store sales to higher average check sizes. Price hikes took effect and customers paid to add the company's controversial queso offering to their orders, even as the transaction count faltered. That suggests Niccol still has work to do to improve traffic to Chipotle locations, but those customers that do come are happy enough to pay more and buy more. That helps vindicate his initial strategy of working within Chipotle's existing infrastructure to make improvements.
The company also raised its full-year same-store sales forecast and now expects low- to mid-single digit growth, compared with an earlier call for low-single digits. New restaurant openings will be at the lower end of the previously guided 130-150 range.
One other thing worth noting from Chipotle's earnings was the $45.7 million increase in impairment and closure costs for the period. This was well telegraphed and some of that is tied to shutdowns of underperforming restaurants, but some is connected to Niccol's plan to relocate Chipotle's headquarters from Denver to Newport Beach, California. He says this will help Chipotle better recruit talent as it ramps up digital sales, but Newport Beach also happens to be Niccol's pre-Chipotle hometown. It's not the best look.
It's interesting to compare Chipotle's performance to Starbucks, which also reported results on Thursday afternoon and is in the middle of its own turnaround. Howard Schultz's last quarter as chairman was kind of a dud and the stock was basically flat in after-hours trading. Global comparable sales at the coffee chain increased 1 percent in its fiscal third quarter, in line with the company's disappointing forecast from June as it announced plans to close 150 company-operated stores in over-saturated U.S. markets. China revenue on the same basis declined 2 percent.

Starbucks fleshed out more details of its plan to kick sales into higher gear, including rolling out nationwide delivery in China by the end of the year and potentially launching a national U.S. TV advertising campaign. Those aren't bad ideas, but they're not going to be cheap undertakings and they will take a while to yield results. Neither initiative may ultimately make much of a difference if Starbucks can't also develop new menu hits to offset faltering Frappuccino sales momentum and bolster the coffee chain's food appeal, as my colleague Sarah Halzack has noted.
Both Chipotle and Starbucks have a ways to go to get their businesses back on stronger ground, but the former is seeing more traction with its plans right now.     
This column does not necessarily reflect the opinion of the editorial board or Bloomberg LP and its owners.
Brooke Sutherland is a Bloomberg Opinion columnist covering deals and industrial companies. She previously wrote an M&A column for Bloomberg News.