Chipmakers Are Caught in U.S.-China Crossfire
(Bloomberg Opinion) -- For years, it has been the best of times for computer-chip companies. Now, though, they're increasingly trapped in global political wars. 
The latest example is the decision by a court in China to temporarily ban some sales there by Micron Technology Inc., the Idaho-based maker of memory chips essential to most smartphones. The court case centers on specialized technology that a rival company says Micron stole, although the tussle appears to be less about the law and mostly about the Chinese government's efforts to develop a homegrown computer-chip industry at any cost. Micron shares fell as much as 8 percent on the development.
The patent-infringement lawsuit was filed over Micron products used in computer graphics cards rather than over the company's cash-cow business in chips for higher-performance computers and phones. That means the financial impact on Micron from the sales ban will most likely be limited, although the political implications are profound.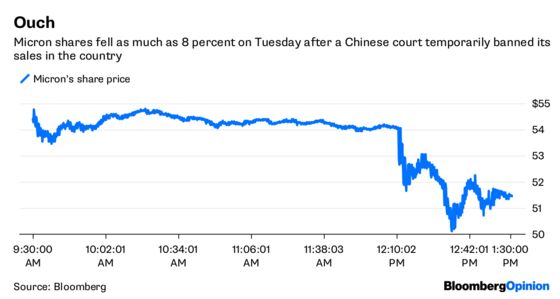 Chip companies have been among the biggest industry winners as China has become an economic superpower, but now they find themselves caught in the crossfire between the U.S. and China, the two most important computer-chip markets.
In addition to Micron's legal fight in China, Qualcomm Inc. has been battling in China over regulatory inquiries and an acquisition that is held up by China's antitrust authority, perhaps in retaliation for the U.S. government's punishment of Chinese telecom equipment company ZTE. Chipmakers also appear to be on the losing end of U.S. tariffs that are trying to prevent, among other things, the kinds of Chinese technology theft that seems to have happened to Micron. A trade group has said U.S. policies could perversely make American chipmakers subject to the 25 percent tariffs intended for Chinese companies. 
That's because chips that are considered imported from China may not be. Micron has disclosed that 51 percent of its revenue in its latest fiscal year came from sales to China. That figure is based on the places where Micron products were shipped, rather than the ultimate country where finished products turn up. For example, Micron might count as revenue from China its memory chips that wind up as components of smartphones assembled in Chinese factories, even if those phones are sold to customers in the U.S. or Europe.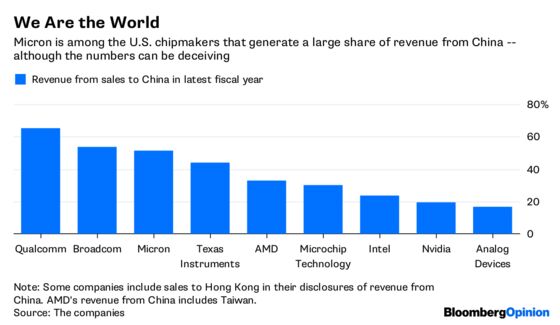 Micron's patent fight is emblematic of the stew of factors that is making investors sour on chip companies. In addition to the tariff war with China and the fears of intellectual property disputes with Chinese companies, there is anxiety that the typical boom-and-bust cycle for certain chip industry categories is about to bust again. In part because of regulatory scrutiny motivated by global political factors, further consolidation will be tough in the industry, even in categories that can use it. All that angst has pushed an index of semiconductor companies to dip 10 percent since a record on March 12.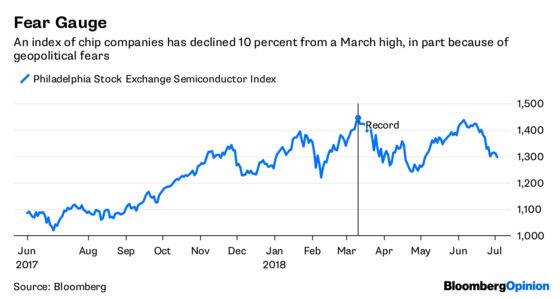 It's hardly the worst of time for chipmakers, though. Financial results have held up well for many companies, and they seem poised to benefit from technologies such as artificial intelligence and driverless cars that are likely to increase demand for computer chips. The outlook might be bright for the industry, but in the present the unpredictable actions of governments around the world have made chipmakers lose control of their own futures.