Chinese Ambassador to U.K. Appeals for Calm Amid Coronavirus
(Bloomberg) -- China's envoy to the U.K. appealed for countries to avoid panic as many implement travel restrictions to prevent importing the coronavirus.
The government reached out to U.K. officials asking them to review a directive to British nationals living in China to leave the country, Ambassador Liu Xiaoming said Thursday in London, citing guidance to the contrary from the World Health Organization.
"We did tell them overreaction is not helpful," Liu said during a press conference at the Chinese embassy. "We asked them to take the advice of the WHO to make a reasonable response."
The coronavirus outbreak has put a stranglehold on certain industries and regions of China as the government imposed unprecedented quarantines affecting tens of millions of residents. Other nations are implementing travel restrictions that may threaten the country's economy, amid reports of discrimination against Chinese people and Asians in other parts of the world.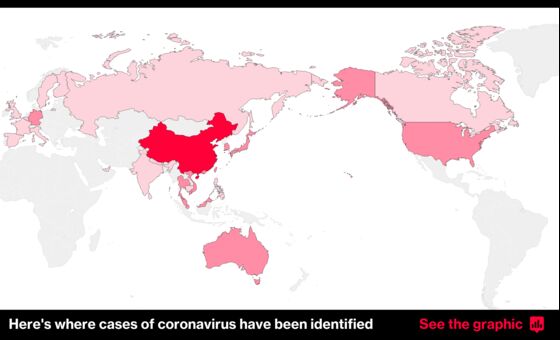 U.K. Foreign Secretary Dominic Raab on Tuesday urged British nationals to leave China to avoid infection. The following day, WHO Director General Tedros Adhanom Ghebreyesus said the U.K. shouldn't have implied that the outbreak, which has been concentrated in the central city of Wuhan and surrounding province of Hubei, is severe nationwide.
"We are concerned that all countries make their decisions based on evidence," Tedros said at a briefing.
Communication with the U.K. government is good despite the disagreement over the advice to foreign nationals, Liu said. He cited collaboration with British researchers on possible vaccines, treatments and other projects, some of which predate the emergence of the coronavirus in Hubei. Still, there are policymakers, including some in the U.S., who have been making hay during the crisis, he said.
"There are some politicians trying to take advantage of this for political gains," he said, without citing names. "This is not in the interest of the U.S." or China.
The low number of cases and deaths outside China shows the effectiveness of the country's measures to stem the spread, the ambassador said. In an attempt to give some perspective, Liu cited higher death rates during other epidemics, including Ebola, SARS and the H1N1 flu of 2009.
The numbers of deaths from those outbreaks are "more serious than coronavirus," he said.