China Urges a Pig Breeding Revival to Boost Social Stability
(Bloomberg) -- China's agriculture ministry urged local governments to take responsibility and do their best to revive domestic hog breeding, citing the importance for economic and social stability, the ministry said late Monday.
Pig production and supply are linked to farmers' incomes and economic and social conditions, and "we should deeply understand the special importance of stabilizing hog production from the perspective of economic and social development, and take hog production and supplies as a major political task," according to minister Han Changfu.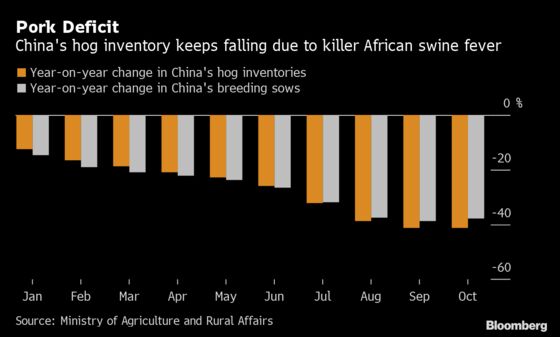 China's hog herds plunged more than 40% in October from a year earlier because of African swine fever, though there are signs that the pace of decline is beginning to slow, ministry data show.
The ministry urged local leaders to take responsibility for ensuring supplies ahead of Lunar New Year holidays and the National People's Congress in March. Farmers should halt the slide in hog inventories and the drop in breeding sows to ensure production returns to normal levels by the end of next year, it said.