China Toppled by Middle East as Emerging Dollar Bond Leader
(Bloomberg) -- Chinese borrowers are rising the rankings for emerging-market dollar debt sales again after slipping from the top spot for the first time since 2016.
They have sold more than $5 billion in dollar notes in May, driven by corporate offerings from the likes of PC maker Lenovo Group Ltd. and Chinese state-owned oil titan Sinopec. That trails only issuance out of the United Arab Emirates, with $7.5 billion this month, boosted by a $3 billion deal from Abu Dhabi's government earlier this week, data compiled by Bloomberg show.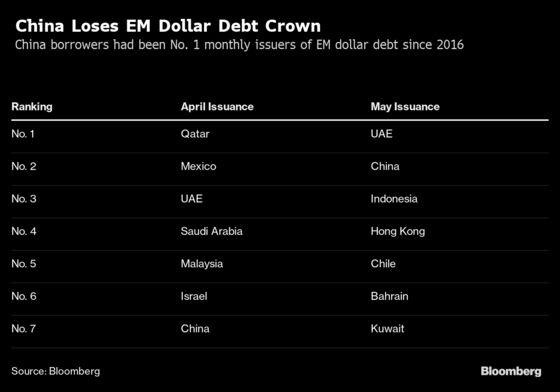 Middle East nations overtook China as the biggest sellers of dollar debt in the emerging markets in April, when Qatar claimed top spot that month with about $11 billion of sales compared with $4.6 billion from China. Still, Chinese borrowers remain the biggest sellers of dollar notes for the year as a whole, raising some $63 billion.
The last time the nation's issuers lost the lead was in October 2016, when Saudi Arabia raised $17.5 billion with its maiden sovereign bond.