China Top Bond House Sees Private Firms' Funding Woes Easing
(Bloomberg) -- While many market players expect funding conditions for China's private sector firms to remain tight despite recent easing measures by policy makers, the nation's top corporate bond underwriter predicts otherwise.
China is shifting from derisking the financial system to also supporting the real economy, said Liu Donghai, general manager of investment banking and asset management department of Bank of China Ltd. The number of debt defaults are likely to fall next year as authorities "actively" deploy support tools to assist funding by private companies, he said in an interview in Beijing.
China's private companies bore the brunt of tight funding conditions in the local market, as investors turned to the safety of debt sold by state-run firms. Government support is rising for the sector in recent weeks. The central bank plans to give 10 billion yuan ($1.4 billion) to a state-backed insurer to provide credit support for debt sales by private firms. The amount, with the use of leverage and participation of other investors, can help new bond sales of up to 160 billion yuan, deputy governor of the bank said.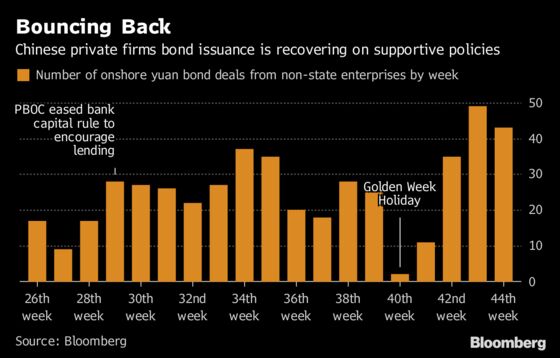 Investor reluctance in buying bonds from private firms as well as creditors seeking to get their funds back have been among the issues for non-state companies, according to Liu. "We will see fewer situations like that next year due to the policy shift," he said.
More local governments are coming up with their own measures to support the non-state sector. Shanghai is the latest city to set up a 10 billion yuan fund to support publicly listed companies that are not state-owned and the it will also guide financial institutions to enhance credit support.
However, not everyone is convinced of the effectiveness of these measures. Sun Binbin, a fixed income analyst at TF Securities, expects only industrial and regional champions to benefit and recommends investors to wait for an improvement in private sector companies before investing.
READ MORE: China's Support to Private Firms Seen to Have Limited Effect
Bank of China, which ranks no. 1 in corporate bond sales in China this year with a 7 percent market share, is working with credit support providers such as China Bond Insurance Co. to sell notes for private companies, Liu said.
Earlier stories about private sector funding pain in China: 
China Private Firms Face Record Debt Dues as Defaults Surge
Private companies defaulted on 67.4 billion yuan of local bonds this year, 4.2 times that of 2017, Bloomberg-compiled data show. Moody's Investors Service said on Thursday that while policy easing will alleviate issuers' refinancing pressure, weak issuers remain vulnerable to default risk as financial institutions are still "more inclined" to extend loans to state-owned companies.
Regarding the dollar bond market, Bank of China expects a potential decline in defaults in China and the possibility of slower rate hikes by the U.S. Federal Reserve to help improve sentiment in 2019. Issuance from the nation dropped by 15 percent so far this year as investor demand fell amid record domestic note defaults.