China Small Business Gauge Falls to Record Low on Virus Outbreak
A monthly survey on the health of China's small and medium-sized businesses plummeted to a record-low in February, highlighting the negative economic impact brought by the ongoing coronavirus outbreak.
The SMEI index complied by Standard Chartered Plc economists Lan Shen and Ding Shuang fell to 40.5 this month, the lowest since the gauge was created in 2014, they wrote in a note on Monday. A sub-index evaluating "current performance" dropped even more sharply to 31.3, while the reading for the outlook was better than the headline number, signaling some hope for recovery once the outbreak is contained.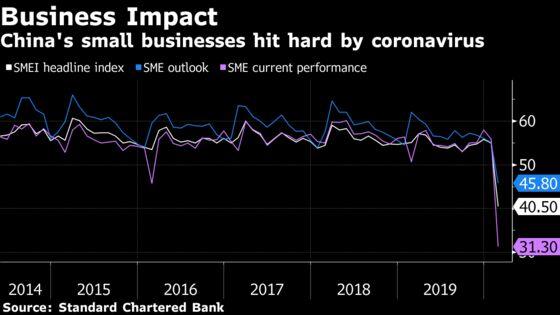 The survey, conducted in the week of Feb. 17, showed firms reporting an average capacity utilization rate of 42% and employee return rate of 47%. Measures to contain the virus including the regional lockdown and quarantine have disrupted business operations. While central and local governments are pushing factories to reopen if possible to prevent the economy from collapsing, progress is slow. The companies surveyed expect full production to resume in April and almost full staff in March, the economists wrote.
The spread of the virus lowered China's domestic demand to 46% of normal levels, according to the survey. Sales in manufacturing and construction were less affected than other industries, and firms expect demand to start recovering in March. Small and medium-sized enterprises in the wholesale, retail and services sectors have felt more pain and look for sales to recover gradually in April, the survey showed.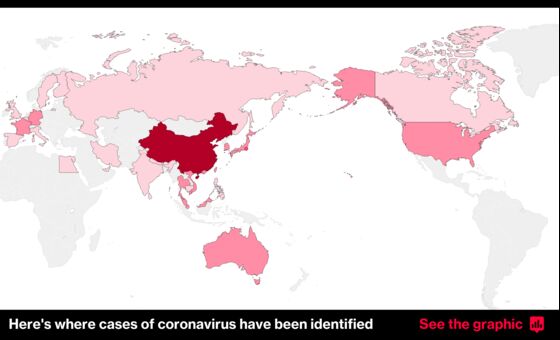 China's official manufacturing survey is due for release on Feb. 29. Standard Chartered forecast the reading to fall to 36.0 from 50.0 in January, which would be the index's lowest-ever level. Readings lower than 50 indicate deteriorating conditions.