China Says the Worst May Soon Be Over for Deadly Pig Disease
(Bloomberg) -- The plunge in hog numbers in China, the world's biggest pork producer and consumer, will probably bottom out before the end of the year because of government policies to combat African swine fever, an agricultural ministry official said.
Pig inventories in the country will gradually increase and market supply will return to normal in 2020, Yang Zhenhai, director of the animal husbandry and veterinary bureau at the ministry, told a briefing in Beijing on Thursday.
As well as a massive culling program, government measures have included banning transport of live pigs, closing markets and providing subsidies for large farms to increase production.
Signs of a turnround are already emerging, according to Yang. On large farms, pig numbers expanded 0.6% in September from a month earlier to 44.5 million, he said, citing a survey of operations with annual output of more than 5,000 hogs. The population of breeding sows last month climbed 3.7% from August.
On all the country's farms, the contraction in herds of hogs and breeding sows eased in September from the previous month for the first time since March. Hog numbers shrank 3%, versus a decline of 9.8% in August, while the breeding sow population fell 2.8% compared with 9.1%.
The more upbeat outlook from the Chinese official echoes comments from the country's neighbor Vietnam, which said this week that the number of infected and culled pigs had dropped significantly.
The highly contagious disease has ravaged herds in China, leading to a plunge in hog inventories and pork output from a year earlier, soaring prices and a surge in meat imports. Pork prices were up 69% last month from the same time last year, according to the National Bureau of Statistics.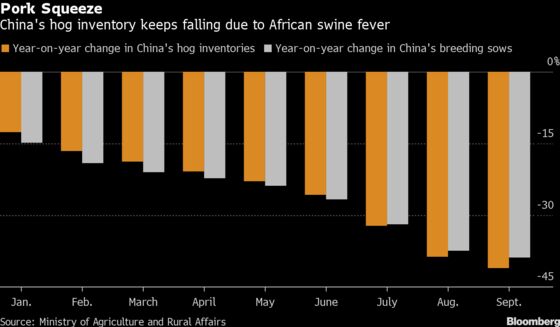 The scourge has spread to several countries in Asia, including Mongolia, Laos, the Philippines and North and South Korea.