China's Pork Prices Are on the Rise Again
(Bloomberg) -- Concerns in China over reemerging outbreaks of a deadly swine disease at a time when pork imports are expected to slide have pushed prices of the meat to their highest level in two months.
Wholesale pork prices jumped 5.1% last week, the biggest such gain in about eight months, according to data published by the commerce ministry. The meat is now trading at about 43.4 yuan ($6.14) per kilogram, the highest since April.
Chinese pork prices, a key component of the country's inflation measure, had surged to record levels in November as the spread of African swine fever slashed supplies in the world's biggest consumer of the meat. But as farms began to take control of the outbreak, prices had begun to ease as optimism grew that the hog herd will recover.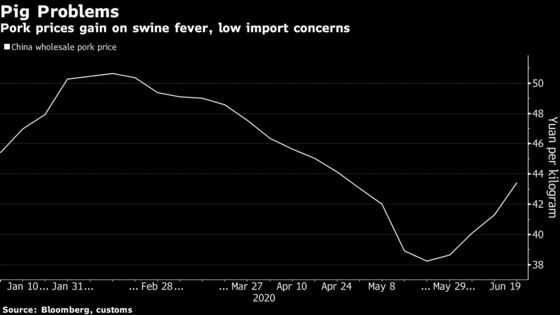 China had also been buying record amounts of the meat to fill its supply gap, with arrivals surging earlier this year. However, that may also slow after China's customs department halted purchases from several overseas suppliers on concerns over imports after slaughterhouse employees from Brazil to Europe reported infections of the coronavirus.
Prices may continue to rise until the end of August at least, said Lin Guofa, a senior analyst at Bric Agriculture Group, a Beijing-based consulting firm. Expectations of low imports in the third quarter and concerns swine fever will hurt supplies in the fourth quarter are buoying prices, said Lin.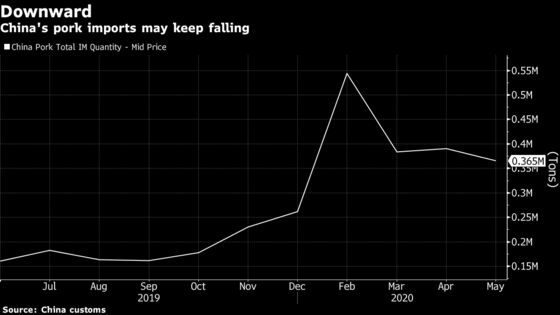 The direction of China's pork prices not only impact agricultural traders and economy watchers, but also equity investors. Shares of Muyuan Foodstuff Co., the country's second-largest hog breeder, rose more than 5% on Tuesday to close at a record high.
African swine fever outbreaks have picked up since March, with recent cases reported in the northwest province of Gansu in May and one in the southwest province of Yunnan earlier this month.