China's Meat Imports Surge to Record to Meet Holiday Demand
(Bloomberg) -- China's meat imports surged to a record in November, with buyers in the world's top pork consumer stepping up purchases ahead of traditional holidays to boost supplies that were hurt by African swine fever.
Pork imports jumped 151% from a year earlier to 229,707 tons last month, customs data showed. Shipments in the first 11 months increased almost 58% to 1.7 million tons.
Beef purchases were 186,984 tons last month, up nearly 80% from a year earlier. Shipments rose 57% to 1.5 million tons in the January-November period.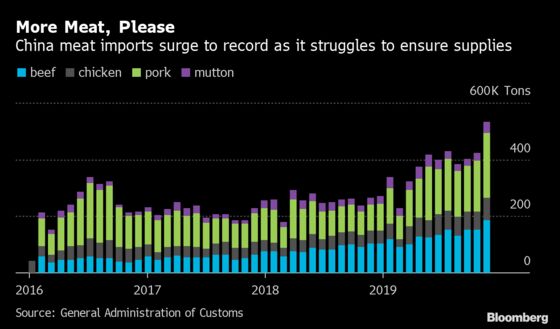 Chinese buyers may not be able to source enough pork from Europe as extra supplies may have almost dried up.
The Asian nation will crack down on hoarding meat and market price manipulation, and boost sales from reserves to ensure enough supplies ahead of the holidays, Hu Chunhua, vice premier, said at a meeting over the weekend.
Breeding farms should boost slaughtering while ensuring the quality of the meat, he said.
China's finance ministry said on Monday that the country will cut pork import tariffs to 8% from 12% on Jan. 1.
China's total meat and offal shipments were 644,284 tons in November, also a record high and a gain of 82% from a year-earlier period. Total purchases in the first 11 months reached 5.5 million tons, 42% higher than a year ago.
Frozen chicken imports rose 71% to 77,895 tons in November, bringing total purchases to 693,443 tons in the first 11 months, a 51% increase from a year ago, data showed.
READ: China to Cut Tariffs on Goods Including Pork, Tech Items
READ: China Lifts 18-Year Ban on Some Japan Beef Imports Before Summit