China Rocket Launch Brings Space Station Ambitions Closer
(Bloomberg) -- China successfully launched a new rocket from the island province of Hainan, state media reported, marking a significant step in the country's ambitions of building a space station by 2022.
The heavy-lift Long March-5B rocket took off from Wenchang Space Launch Center at 6 p.m. local time Tuesday, carrying a prototype spacecraft with no crew and a test version of a cargo return capsule, Xinhua News Agency reported, citing the China Manned Space Agency. Both separated from the rocket and entered the planned orbit, it said.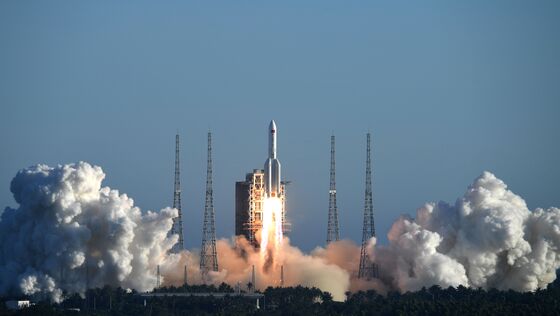 Long March-5B, which is almost 54 meters (177 feet) long, will mainly be used to launch modules of the space station. It can send over 22 tonnes (24 tons) of payload into low-Earth orbit, Xinhua said. The successful launch inaugurated the "third step" of China's manned space program, which is to construct a space station, it added.
President Xi Jinping is pushing to make China a superpower in space rivaling NASA, and the country already has rovers on the moon and plans missions to Mars. Long March-5B is a new version of the Long March-5 launcher, nicknamed the "Fat Five."