China's Tough Measures Beat Daily Covid Cases Back to Single Digits
(Bloomberg) -- China reported eight Covid-19 infections on Wednesday, all in one province, as the country's new cases dropped to single digits for the first time in its latest delta outbreak. 
All of the locally transmitted cases were found in northeastern Liaoning province, according to the National Health Commission. The number of new infections has fallen for three consecutive days, after peaking at more than 100 daily during the broadest outbreak it's experienced since Covid first emerged two years ago.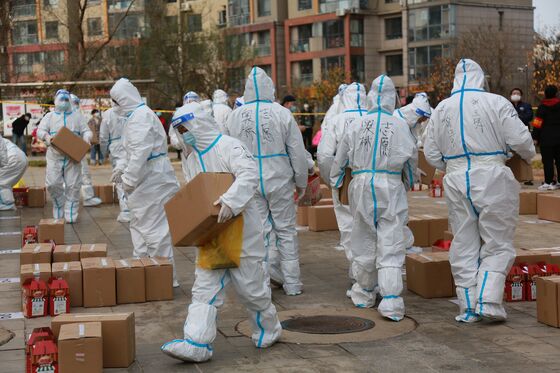 China has doubled down on its pledge to stick to its Covid Zero strategy of eradicating the virus on its soil, even as other nations pivoted to living with it after determining the effort took too big an economic and social toll. China's hardcore defenses, including lockdowns, mass testing, and suspension of domestic travel, helped it quell three other recent outbreaks and make progress against the current flare-up that has led to more than 1,000 infections across more than 20 provinces. 
Flights to Beijing from provincial capitals have been cut to one per day as the political hub awaits the start of the winter Olympics it will host in less than three months of time. Officials in the capital also are requiring all new arrivals to provide a negative test result from within 48 hours, while banning entry to travelers from middle- and high-risk regions.