China Builder RiseSun Says Majority Support Debt-Swap Offer
(Bloomberg) -- China's RiseSun Real Estate Development Co. said most creditors have given a positive response so far to its offer to swap two dollar bonds, as the cash-strapped developer seeks more time to repay debt. 
A majority of holders have provided verbal consent to its proposal to exchange the bonds maturing next year for new notes with longer durations, RiseSun said in response to questions from Bloomberg, without giving specific figures. Investors holding less than 10% of the notes have indicated opposition to the plan, the company said.
RiseSun last week proposed to swap the two bonds maturing in January and April -- totaling about $780 million -- for new securities that wouldn't come due until 2023 and 2024. The swap requires acceptance from at least 85% of holders, RiseSun said in an exchange filing last week. Holders have until Dec. 30 to accept the offer, and will receive extra cash if they agree by Friday. 
Click here for details of the bond-swap offer
RiseSun is among a handful of Chinese developers scrambling to delay their offshore debt repayments after soaring yields during a leverage crackdown made it too expensive to refinance debt. Kaisa Group Holdings Ltd. defaulted this month after bondholders rejected its exchange offer, while a Yango Group Co. unit successfully swapped three dollar notes in November.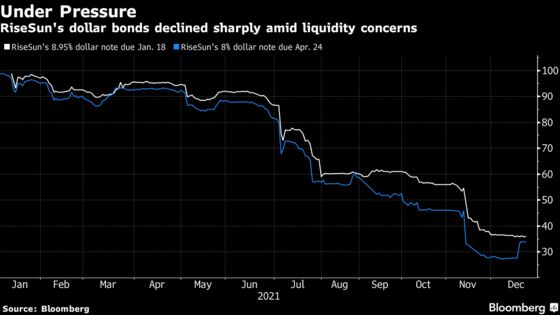 RiseSun's dollar bonds were little changed Wednesday, in line with the broader Chinese offshore credit market. They are trading at less than 37 cents on the dollar.
Based in the northern province of Hebei, RiseSun ranked 22nd by sales nationwide last year, according to China Real Estate Information Corp.
RiseSun would sell assets worth about 5.4 billion yuan ($847 million) as of June to fund repayment of the new bonds, including its listed property management unit Roiserv Lifestyle Services Co. and nine commercial properties, the company said. If creditors accept the proposal, it would kick off the disposals after the Lunar New Year holiday and seek to complete them within six to nine months, the company added.  
A successful dollar debt extension is critical for RiseSun, which said it only has about 700 million yuan of unrestricted cash on hand. That's not enough to cover more than 5 billion yuan of payments to suppliers and salaries for migrant workers before the Chinese new year starting Feb. 1, which the company said it needs to prioritize. The firm has a further 15 billion yuan in cash that's tied up or under supervision, it said.  
China Evergrande Group, the developer at the center of the property industry cash crunch, is also making payment of such bills a priority as regulators urge it to head off any risk of social unrest, Bloomberg reported last week. 
Meanwhile, RiseSun is talking to financial institutions on extending borrowings of about 20 billion yuan due in the first half of next year, the company said. 
RiseSun's parent company is considering a potential sale of a unit that makes electric-vehicle batteries, and is seeking as much as 10 billion yuan, people familiar with the situation said this week. 
RiseSun hired Haitong International Securities Group Ltd. as a financial adviser on its debt situation, the developer said last week before announcing the bond-exchange proposal. 
Moody's Investors Service and Fitch Ratings downgraded RiseSun's credit ratings following the debt-swap offer. Moody's said it remains uncertain whether the firm can mobilize cash resources for debt repayments.