China Bellwether NIO Whipsawed as Traders Struggle to Set Price
(Bloomberg) -- After a wild day on Thursday when NIO Inc. soared by 76 percent, Friday appears to be another volatile session.
The electric carmaker's stock jumped by as much as 19 percent to $13.80 Friday, the third session since its initial public offering, only to turn negative in the first hour of trade, down as much as 21 percent intraday to $9.22. NIO shares are trading nearly 70 percent above this week's IPO price.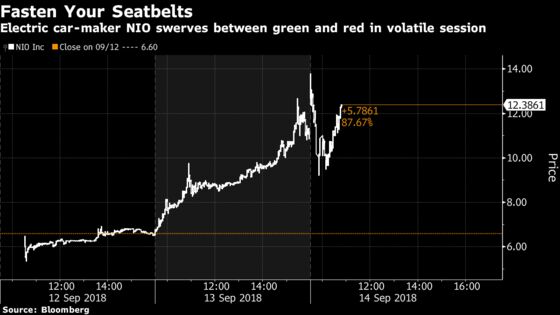 NIO raised $1 billion in the year's third-largest U.S. listing by a Chinese company. The initial public offering priced at $6.26, near the bottom of the offering range, on Sept. 12. Strong trading in NIO could encourage other Chinese firms to move forward with their own plans for U.S. listings.