China Aims to Breed More Pigs, Lift Rural Farmers Out of Poverty
(Bloomberg) -- China wants large pork producers to invest billions in rural pig farms to tackle poverty and boost supplies of the meat that's been crushed by a deadly swine disease.
About 15 large pig breeding companies plan to invest a combined 50 billion yuan ($7.14 billion) in smaller swine farms to raise 22 million hogs, Agriculture Minister Han Changfu said in a speech on Thursday. That will help 33,000 rural families break out of poverty, he said.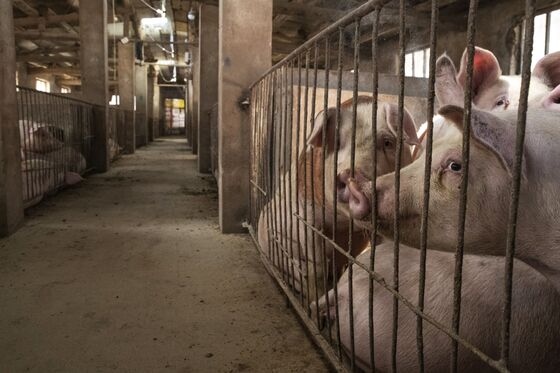 Outbreaks of African swine fever slashed the country's hog herd and pushed up pork prices to the highest ever. Though China has been importing record amounts of meat, the government said it needs to boost domestic production to meet demand. Many farmers have been roiled by the disease and have all but abandoned pig breeding out of fears of re-contracting the virus.
"We shall take advantage of the current good pork prices and guide large pig enterprises to lead middle-and-small-sized farmers in poor areas to recover breeding of hogs," said Han.
China aims to lift about 30 million people out of poverty in rural areas by 2020 in a three-year plan released in 2018. China has alleviated poverty in some 10 million rural residents in 2019 but the poverty-relief efforts are still facing difficulties and challenges, the government said.
China has more than 26 million pig farms, of which 99% raise fewer than 500 hogs a year, Wang Junxun, an agriculture ministry official, said at a press conference last week. Those farmers contributed to about half of the country's annual pork output, he said.
It's important for these farmers to restock hogs in order for the country to stabilize its pork production, Wang said. China aims to revive its pig breeding capacity to normal levels in 2021 despite ongoing outbreaks of African swine fever.