Chile Unemployment Drops for Fourth Month as Economy Mends
(Bloomberg) -- Chile's unemployment rate dropped for the fourth straight month and retail sales surged as the government continued easing coronavirus restrictions while extending emergency aid. 
The jobless rate fell to 8.9% in the three months through July, below the 9.2% median estimate from analysts in a Bloomberg survey, the national statistics institute reported on Tuesday. Apparel and car sales drove retail, which jumped 62.2% from a year ago, while industry and manufacturing also gained during the period.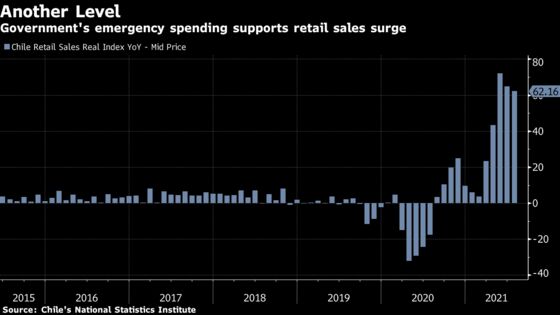 Unlike previous job reports, which showed a drop in unemployment mostly due to people not actively looking for jobs, the country's labor force grew 9.9% from a year ago. About 58.2% of the jobs lost during the pandemic have been recovered, the statistics institute said.
Chile has loosened restrictions following a virus peak in June, and over 70% of the population has received two vaccine doses, according to Bloomberg's Vaccine Tracker. Demand has also been supported by an extension of cash transfers. The stronger recovery is expected to prompt the central bank to raise its interest rate for the second straight meeting later today. 
Policy makers are also seen raising their growth and inflation forecasts in their quarterly monetary policy report, which will be released on Wednesday.
Vehicle sales soared 68.3% from a year ago, while supermarket sales jumped 25.7% during the period
Some industrial figures showed negative month-on-month results:

Industrial production fell 0.9% from June, while mining slipped 0.9% and manufacturing dropped 1.8% 

Power, gas and water production rose 8.2% from a year ago and 2.6% from June
Metallic mining production fell 3.6% from a year ago