Chile Economic Recovery Speeds Up as Stimulus Cash Powers Demand
(Bloomberg) -- Chile's economic activity rose for the fifth straight month, as billions of dollars in stimulus measures propel the recovery of one of the region's richest nations.
The Imacec index, which is a proxy for gross domestic product, rose 1.7% in September compared to the 1.1% increase recorded the month prior, the central bank reported on Tuesday. From a year ago, activity jumped 15.6%, above the 12.3% median estimate from analysts in a Bloomberg survey.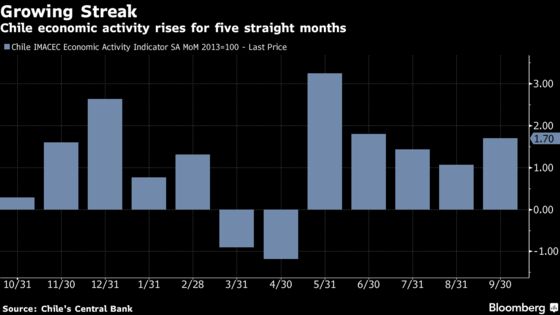 Chile's economy is one of the fastest growing in the world, with demand propelled by government cash transfers and also early pension fund withdrawals. As a result, the central bank has raised its interest rate in three straight meetings. Going forward, uncertainty over elections and a new constitution may curb activity including investments.