Chile's Central Bank Is Watching Alternative Data, But What Is It?
(Bloomberg) -- Chile's central bank is looking at alternative sources of labor statistics to bolster its case for higher interest rates.
Policy makers cited "complementary sources of information on the labor market -- including administrative records" that show a stronger labor market, when they raised the key rate by a quarter point to 2.75 percent on Thursday. That alternative data includes payments to the pension system and unemployment insurance, the bank later clarified in a reply to questions.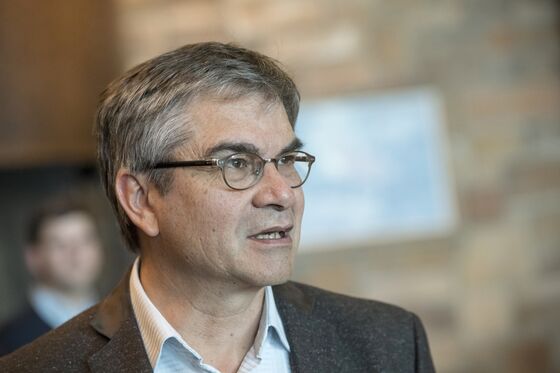 The pension data help explain why the bank raised borrowing costs at a time when the statistics agency is reporting the highest unemployment rate in seven years and real wage growth that has stalled. The central bank's argument fails to convince many analysts who stress the pre-eminence of the statistics agency data.
"We can't disregard the unemployment rate as one of the main indicators of output gap, considered as such by all central banks in the world, and move to administrative data," said Jorge Selaive, Chile chief economist an Scotiabank in Santiago. "The official statistics come from the statistics agency and not from other sources that should be treated as complementary and not a substitute."
The pension system paints a more positive picture of the labor market. The number of people paying into the system rose 2.8 percent in August from the year earlier, compared with the 1.9 percent increase in wage earners recorded by the statistics agency. Individual pension payments gained 3.9 percent over the same period, implying more people are holding down two jobs.
In addition, average wages climbed 4.7 percent, according to the pension system, double the 2.4 percent rate estimated by the statistics agency.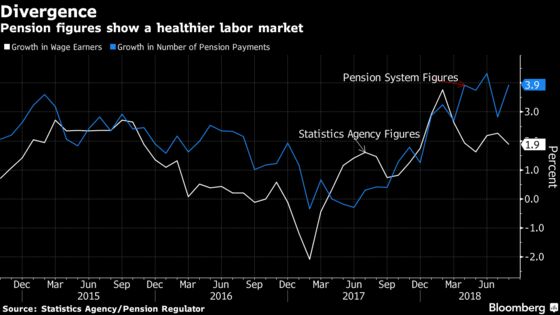 The unemployment insurance system provides further evidence of labor market strength. The number of people paying monthly quotas into the system rose 4.6 percent in July from the year earlier, while their average wage climbed 4.7 percent.