Chicken-Sandwich Wars Could End Up Saving U.S. Poultry Industry
(Bloomberg) -- U.S. chicken companies are running production at a manic rate, sparking a glut and sending prices for key products like breast meat to record lows. Despite all that, the industry could be looking at a bright 2020 -- thanks to the chicken-sandwich craze sweeping America.
That's according to Joe Sanderson Jr., chief executive officer of American chicken giant Sanderson Farms Inc. The sandwich wars among fast-food companies could end up being the "bailout" the oversupplied U.S. poultry industry is in need of this year, he said.
A social media frenzy has pulled Americans into sandwich obsession. Popeyes quickly ran out of its new, instantly iconic chicken sandwiches when they were first launched nationwide last August. The fervor ignited a marketing battle and will be a catalyst for an onslaught of competing products, Sanderson predicted in a Thursday call with analysts to discuss quarterly financial results.
Chick-fil-A Inc. has made the passive-aggressive claim that its sandwich was the "original," and McDonald's Corp. has recently joined the fray. Even more will come in spring, Sanderson said, adding that food sellers are buying up chicken and storing it for future promotions.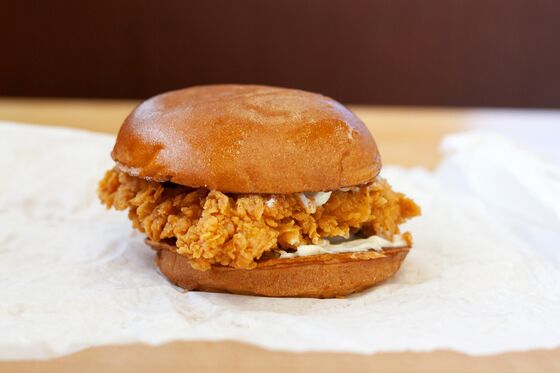 Fast-food restaurants "have to get into the ball game," Sanderson said. "They cannot sit still and allow two people to dominate the chicken-sandwich segment."
The buzz is so hot that even though the overall industry is facing a glut, supplies of small chickens used to make the sandwiches are running short.
Little chickens -- around 4 or 5 pounds -- have quarter-pound breasts that fit perfectly inside a bun. The petite cluckers are getting harder to find. So buyers are turning to big bird producers like Sanderson Farms to carve out smaller, succulent chicken pieces from breasts of far larger fowl.
"They'll take our boneless and cut" it down to the right portion, he said. "We've sold some to fabricators that turned around and sold it to another restaurant that has a really popular sandwich right now."
Meanwhile, U.S. chicken producers are churning out more meat. Egg sets and chick placements are trending 4% higher than last year. Big profits in 2014, 2015 and 2017 led to the elevated supply levels. According to the U.S. Department of Agriculture, the country is set to produce a record 45.3 billion pounds of broiler meat this year.
"What's going to stop that is red ink," Sanderson said. "When that happens," the expansion "will go away," he said.