Chicago Poised to Reap 99,990% on Yet Another Marshall Painting
(Bloomberg) -- Chicago is cashing in on another painting by local artist Kerry James Marshall.
Marshall's "Knowledge and Wonder" will be sold at Christie's in November to raise money for a library expansion and public art fund, Mayor Rahm Emanuel said Monday. Estimated at $10 million to $15 million, the work was commissioned for the Legler Branch Library in 1995 for $10,000.
"It's an investment in the city," Emanuel said in a phone interview.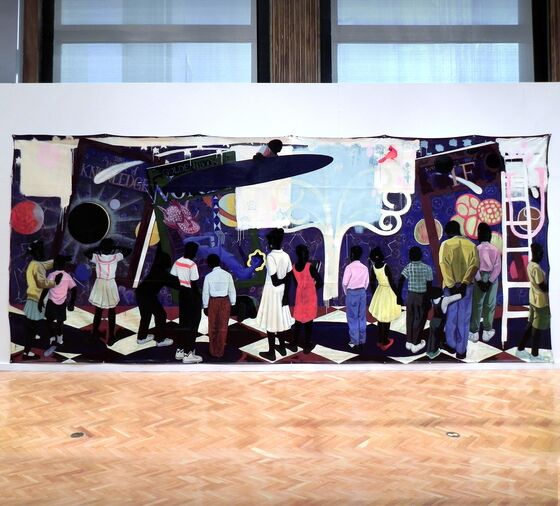 Earlier this year, Chicago's Metropolitan Pier & Exposition Authority sold Marshall's "Past Times" painting for $21.1 million at Sotheby's to hip hop entrepreneur Sean Combs. It had been commissioned for $25,000 in 1997. The sale established Marshall, 62, as the most expensive living black artist at auction.
Almost 10 feet tall and 23 feet wide, "Knowledge and Wonder" depicts a group of black children and adults looking at mural-size images of planets, stars and molecules.
Christie's contacted the city about the painting three weeks ago, offering an attractive estimate, Emanuel said. Part of the proceeds will be used to transform the library, which had housed the painting for more than two decades, into a regional branch.
The $15 million project, which will add new media and computer centers to the 98-year-old building on Chicago's West Side, is part of Emanuel's focus on the city's public library system. "There's no regional library on the West Side," he said. "It's a big hole."
The city will also use some of the proceeds to launch a public art fund for acquisition and commissions of new works.
"It not only creates social and economic equity, it also creates funding for future Kerry James Marshalls," Emanuel said.