Chemical CEOs Are Eyeing a Better Second Half Amid Tough Demand
(Bloomberg) -- Chemical companies are cautiously optimistic about better global demand in the second half of 2020 despite persistent concerns about China's economic growth.
Comments from fourth-quarter earnings seem to be pointing toward better times ahead, but only after some short-term pain in the first half of the year as China grapples with both the coronavirus outbreak and its trade negotiations with the U.S.
"We anticipate typical seasonal improvements for our businesses as we progress through the second and third quarters of 2020," plastic maker LyondellBasell Industries NV's Chief Executive Officer Bob Patel said in an earnings statement Friday.
His comments followed a somewhat rosier forecast for demand from PPG Industries Inc., a specialty chemicals maker, in the second half of the first quarter following the end of Lunar New Year celebrations.
Investors have been looking for signs of improvement after a challenging two years that saw a 24% decline on the Bloomberg Americas Chemicals Index from a peak in January 2018. A technical indicator called the relative strength index indicates chemical stocks are still hovering near oversold levels, a trend that could continue well into the year.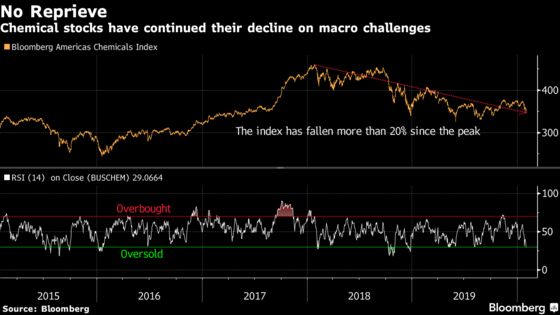 "We enter 2020 in a period of significant uncertainty related to macro factors that are out of our control," Eastman Chemical Co. CEO Mark Costa said in a statement Jan. 30.
Chemical makers don't expect to see any immediate relief from the phase-one trade deal between the U.S. and China, and much will depend on how negotiations play out going forward.
"Recent trade resolutions should be a positive for sentiment, but it may take some time before we see this translate into improved fundamentals," Dow Inc.'s CEO Jim Fitterling said during a conference call, indicating some uncertainty.
Meanwhile, it's anyone's guess how far the coronavirus may reach and what its impact will be on the global economy. An extended shutdown in China could hurt demand. But as the management of chemical maker Celanese Corp. said: "Quite frankly, it's just too early to call."