Chelsea's Pulisic Deal Gives English Soccer a U.S. Boost
(Bloomberg) -- Chelsea Football Club broke the transfer record for a U.S. soccer player by agreeing to buy Christian Pulisic for 64 million euros ($73 million), a move that could boost popularity of the English Premier League across the Atlantic.
The London-based team owned by the Russian billionaire Roman Abramovich struck the deal with German league leaders Borussia Dortmund, where Pulisic, 20, will continue to play until the end of the season. The attacking player, born in Hershey, Pennsylvania, has also made 23 appearances for the U.S. national team.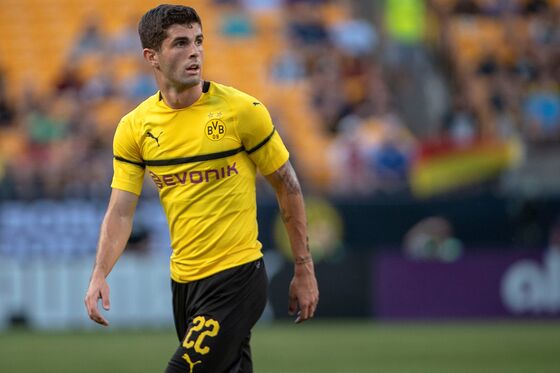 The transfer is likely to generate further interest in English soccer in the U.S., where NBC, a subsidiary of Comcast Corp., holds broadcasting rights. Philadelphia-based Comcast last year paid $39 billion to take over Sky, the U.K. pay-TV provider that has been the dominant rights-holder for the Premier League for the past 26 years.
England's richest clubs have long sought to boost their fan base in the world's richest economy, with the likes of Chelsea, Liverpool and Manchester United Plc holding regular pre-season games in the U.S. However, they face a fresh challenge from Spain's La Liga and its twin giants of Barcelona and Real Madrid.
La Liga President Javier Tebas has pushed for Barcelona to play a regular league game in Miami in order to boost awareness of the Spanish league, only for the current table toppers to pull out of the deal at the end of last year. A further hurdle to overcome is that beIN, the Qatari-owned rights holder of La Liga matches in the U.S., has struggled to have its channels carried on Comcast.
Premier League matches, meanwhile, have enjoyed growing popularity. Ratings for live matches on NBC this season are up 8 percent from a year earlier. A match between two Manchester clubs, City and United, drew 1.72 million viewers, a record for a Premier League broadcast in the U.S., according to a League spokesperson.
Dortmund said the sale of Pulisic will benefit full-year profit, which would now be double-digit million euros rather than low single digit. The shares gained 5.9 percent as of 5:08 p.m. in Frankfurt, the most since July, valuing the club at 776 million euros.
Dortmund leads illustrious rival FC Bayern Munich by six points in Germany's top tier Bundesliga, on track for its first title since 2012. Chelsea lies fourth in the English Premier League, trailing leaders Liverpool by 11 points.