Cheers to Heineken, or to AB InBev? How About Neither
(Bloomberg Opinion) -- Heineken NV and Anheuser-Busch InBev NV, two giants of brewing, have squared off in the past week. The takeaway is that neither has the right approach, and life on opposite sides of the beer mat isn't working for either of them.
Heineken on Monday reported a 4.6 percent increase in organic beer volume in the second quarter. But the brewer warned that its full-year operating margin would decline by 0.2 percentage points. Previously, it had forecast a 0.25 percentage point increase.
That's in stark contrast to AB InBev, which last Thursday reported that beer volumes rose by just 0.9 percent in the second quarter. However, the margin, on an earnings before interest, tax, depreciation and amortization basis, increased by 0.85 percentage points to 39.7 percent.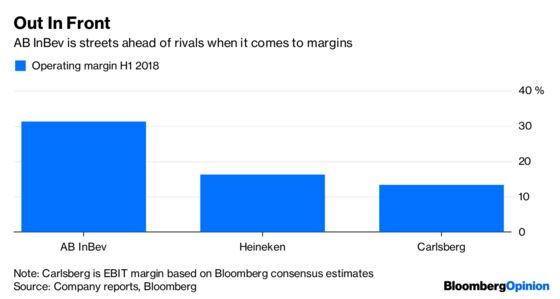 Heineken blamed the weaker margin performance on higher sales in Brazil, where it is attempting to challenge AB InBev after buying Kirin Holding Co.'s Brazilian business last year. While it sold more beer in Brazil in the first half than it expected, its operations there were less profitable than elsewhere, which dragged down the overall margin – and it could take three to five years for the margin in Brazil to catch up with that of the rest of the group. Currency movements were also unhelpful.
The outlook for the next six months should be helped by comparisons with the period a year ago, when the weather was very poor in Europe, as well as an absence of the one-off incidents that hurt the first half, such as strikes in major markets and a shortage of carbon dioxide in the U.K. And in the longer term, as Bloomberg Intelligence analyst Duncan Fox has noted, Heineken's focus on premium brands and shift away from Europe toward emerging market assets bode well.
Though these signs are good, the Dutch company still needs to show that it can translate its impressive sales growth into decent progress on profit. After all, its first-half operating margin was around half of AB InBev's
As for its Belgian rival, while it may be a master of cost control, its task of reviving sales growth in the U.S. looks incredibly difficult. Like other global consumer goods groups, it needs to convince more Americans to buy its big brands and cool their shift to local and craft beers.
The market liked neither AB InBev nor Heineken's earnings. Shares in both fell sharply on their announcements.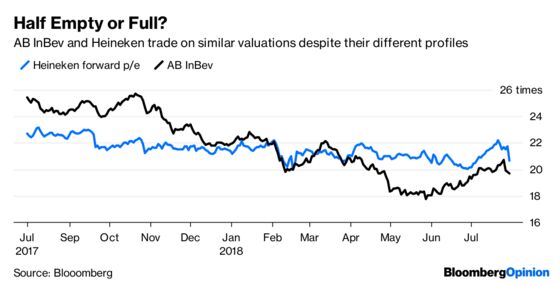 But Heineken has outperformed over the past year. Its shares trade on a forward price earnings ratio of 20.6 times, just ahead of AB InBev. That looks about right for now. The Belgian brewer ought to be on a sizeable premium to rivals, given its superior profits. But for that promise to be realized, it needs to demonstrate that it can lift sales, as well as drive costs down and margins up. That would require a sustained recovery in the U.S.
For all the froth coming from the two brewers, neither has settled on the right place to be. 
This column does not necessarily reflect the opinion of the editorial board or Bloomberg LP and its owners.
Andrea Felsted is a Bloomberg Opinion columnist covering the consumer and retail industries. She previously worked at the Financial Times.