Cheaper Pound May Challenge Case for Currency's Darker Outlook
(Bloomberg) -- The pound is looking increasingly cheap.
The currency is currently undervalued by around 19 percent against the dollar and by 8 percent against the euro, according to the Big Mac purchasing-power parity model. Sterling rebounded on Thursday after a report showed U.K. retail sales rose more than expected in April, heading above $1.34 after falling on Wednesday to $1.3306, the lowest level this year.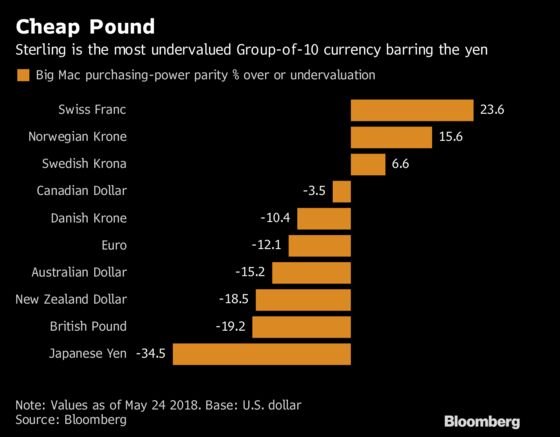 "The very weak valuation by historical standards makes investors hesitant to believe in more structural sterling downside," said Andreas Steno Larsen, a currency strategist at Nordea Bank AB.
While Brexit continues to loom as a risk, the transition agreement signed earlier this year has lowered the threat of the U.K. leaving the European Union without any sort of deal, removing a reason for longer-term pound pessimism. One-year euro-sterling risk reversal option contracts, a measure of market positioning and sentiment, are the least negative on the pound in 11 months.
"The need to hedge a sharp pound depreciation over a one-year horizon is much lower," said Viraj Patel, a currency analyst at ING Groep NV.