Cheap Brazilian Stocks Could Get Much Cheaper in Run-Up to Election
(Bloomberg) -- Investors from Franklin Templeton to UBS Group AG are warning it may be too soon to buy into Brazil's cheap stocks with a few weeks to go until presidential elections.
Concern the October vote will usher in an extreme government, which is looking increasingly likely as moderates struggle to attract support, helped push the Ibovespa index down 25 percent in dollar terms over the past six months. Last week, the stock gauge reached its lowest level as measured in greenbacks since December 2016. After years of constant inflows, exchange-traded funds focused on Brazil have seen money flee for two straight months.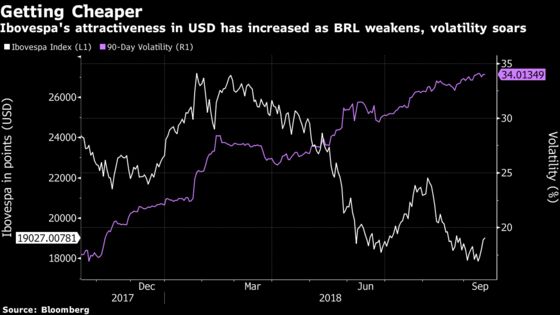 Pessimists are warning the bloodshed may continue, casting doubt on calls from bulls including BlackRock Inc. that stock prices will rebound once the outlook clears and a new president has been selected. UBS says the Ibovespa could still fall another 15 percent from current levels, while Franklin Templeton is shifting more of its local portfolios to commodity stocks in an effort to find assets insulated from political turmoil.
"A good part of the uncertainty is priced in, but to say Brazilian stocks will get a boost regardless of the election outcome is a different thing," said Frederico Sampaio, the chief investment officer at Franklin Templeton's Brazil unit, which oversees 2.8 billion reais ($680 million) in equities. "I look everywhere and see cheap prices. But is Brazil a value trap? The answer might be yes."
UBS says the panic seen in markets ahead of Luiz Inacio Lula da Silva's first election in 2002 is unlikely to be repeated this time around, when the leading candidates are a right-wing former army captain and a left-wing former mayor of Sao Paulo, handpicked by Lula himself. Back then, Brazilian stocks plunged ahead of the vote amid concern Lula would renege on sovereign debt.
While equity valuations, as measured by price-to-estimated earnings, have fallen toward the lowest since early 2016, Brazil is on much more solid footing now, UBS says, citing higher foreign reserves and relatively strong earnings momentum as positives this time around.
If the political scenario worsens, the real could still drop 21 percent to breach 5 per dollar, strategists Alan Alanis and Sambuddha Ray wrote in a report Sept. 17. UBS is keeping a neutral stance on Brazilian equities and recommends defensive or high quality dollar players, such as Suzano Papel e Celulose SA, Fleury SA and TIM Participacoes SA.