Boston Celtics Assistant Coach Pleads Guilty in Money-Laundering Case
(Bloomberg) -- A former University of Pennsylvania basketball coach who is now with the Boston Celtics pleaded guilty to laundering money he took from a businessman who paid him to help his son gain admission to the Ivy League school.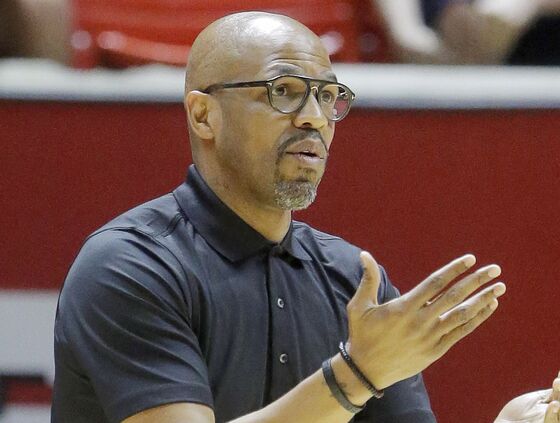 Jerome Allen pleaded guilty Wednesday in federal court in Miami, where he admitted that he laundered $18,000 he took from businessman Philip Esformes, who is separately accused of health-care fraud, money laundering, conspiracy and bribery. Allen agreed to forfeit that amount as well as pay a fine of $202,000. Allen apologized Friday in a statement issued by his lawyer.
"I had a failure of character," Allen said. "I did not live up to the high standards I set for myself, or were expected of me in the position that I held. I am sorry. I let down my family, my friends, my alma mater, and my Celtics family. Even more important, I was not true to my faith. I let down my God."
Allen faces a possible suspension by the Celtics, according to a person familiar with the matter.
Representatives for the Penn athletics department didn't immediately respond to emails seeking comment. The university announced in July that it was investigating the bribery claims, which prosecutors revealed in a revised indictment of Esformes. The results of that investigation haven't been released.
Allen is one of the most celebrated athletes in Penn history. A Philadelphia native, he helped the Quakers win Ivy League titles in 1993, 1994 and 1995, twice winning conference Player of the Year honors. Allen played two seasons in the National Basketball Association. He returned to Penn as a coach in 2009 and was fired after the 2014-15 season. The Celtics soon hired him, and he's part of the staff under head coach Brad Stevens.
In the revised indictment of Esformes, prosecutors said he illicitly gave the coach $74,000 in the form of cash, a recruiting trip to Miami and a ride on a private jet in 2013 and 2014.
Esformes, who owns assisted-living facilities in Florida, is accused of carrying out one of the biggest ever health-care frauds, involving Medicare and Medicaid claims totaling $1 billion. He has been in jail awaiting trial.
Esformes's son, Morris, who was a high school basketball player, began attending Penn in 2015 and is now a rising senior, according to his social media accounts.