Celebrity Stylist Sees Dollar Stores as Path to Global Ambitions
(Bloomberg) -- The dollar store isn't typically the first destination shoppers might think of for salon-quality shampoo, but the bargain retailers are part of one Canadian company's global expansion.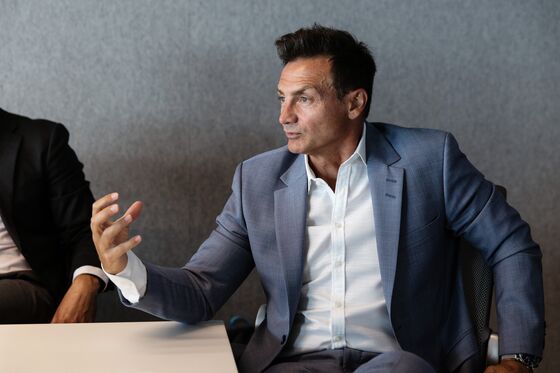 MAV Beauty Brands Inc., the personal-care company founded by celebrity hairstylist Marc Anthony Venere, began selling his namesake Marc Anthony line in the second-biggest U.S. dollar store chain in the second quarter just as the Concord, Ontario-based company geared up for its C$241.7 million ($185.5 million) initial public offering in July.
The IPO was the culmination of three decades in the beauty business for Venere, 49, who started cutting hair in his family's salon in North York, Ontario, and included stints as a stylist to such stars as Eva Longoria. MAV added the millennial-focused Cake and plant-based Renpure lines with acquisitions earlier this year.
Venere was 18 and competing in the world hairdressing championships in Germany when he realized he wanted to do more than run a salon. "I was watching these beautiful models walking down the runway and all I remember thinking is that one day I want to build a global company," he said in an interview at Bloomberg's Toronto office.
The dollar-store push gives MAV exposure to a large, diverse population where the retailers have become a beauty destination, according to Chief Revenue Officer Tim Bunch.
"They really do serve a great population of the consumer in the U.S.," said Bunch, who grew up in a small farming town in Missouri where there was only one mass retailer but multiple dollar stores. Dollar Tree Inc., which includes more than 8,000 Family Dollar outlets, is the second-largest dollar store chain in the U.S.
With products in more than 25 countries and the addition of Cake and Renpure, Venere is focused on organic growth and cross selling in the short term, rather than further acquisitions. Of its 47 U.S. retailers, 36 carry just one of MAV's three brands -- an expansion opportunity that could add C$36 million in sales in the next three years, according to Canaccord Genuity analyst Camilo Lyon.
If MAV were to increase the distribution of all three of its brands, the bottom-line impact would "far exceed our guidance," Venere said. He thinks the time is right as consumers gravitate toward independent brands and "masstige" products -- those with an upscale appeal at lower costs.
Lyon has price target of C$22 for MAV, one of five buys from analysts who initiated coverage after the IPO. The company posted a net loss of $3 million for the second quarter on revenue of $22.9 million. Sales were up 148 percent from a year earlier, with a 34 percent boost from organic growth. The shares have slipped about 6 percent to about C$13.22 since their trading debut, giving the company a market value of about C$497 million.
MAV is trying to maintain the independent, entrepreneurial culture of the companies it acquires to develop products that follow the street trends. Venere said he can get his products to market in as little as three to six months compared with the two to three-year timeline of bigger brands, he said.
Consumer goods companies are hot on the trail of the independent brand trend though. Last year, London-based Unilever acquired SheaMoisture's parent company Sundial Brands. With large platform companies overseeing multiple brands at once, they tend to slow innovation, Venere said.
"Innovation is the lifeblood of our company," Venere said, adding that natural products are a trend that's only getting bigger and taking over the beauty industry.