Ceconomy Chief Haas Leaves After Consecutive Profit Warnings
(Bloomberg) -- Ceconomy AG Chief Executive Officer Pieter Haas stepped down, following investor fury at back-to-back profit warnings from Europe's biggest consumer-electronics retailer. Chief Financial Officer Mark Frese will also leave the company after a successor has been found, Ceconomy said in a statement.
Frese will lead the company on an interim basis together with management board member Dieter Haag Molkenteller after Haas and the supervisory board "mutually agreed to separate with immediate effect," Ceconomy said.
Since its split from former parent Metro AG in July 2017 led the stock to a January high, Ceconomy has suffered from a series of stumbles. The troubled electronics retailer acknowledged granting too many Black Friday rebates last year, then plotting a costly exit from its stumbling Russian operations. Next came earnings-forecast cuts in each of the last two months that led the shares to lose two-thirds from their Jan. 12 peak.
That has piled pressure on top-level executives, even after the company replaced part of the management at MediaMarktSaturn, the unit blamed for much of the underperformance. At mobile-phone company Freenet AG, Ceconomy's third-biggest shareholder, CEO Christoph Vilanek called the profit warning "embarrassing" and said changes were probably needed to regain trust.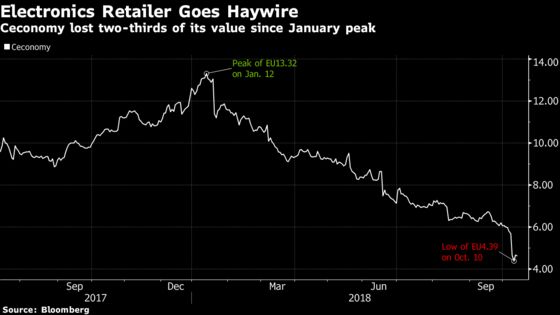 European retailers are consolidating as the broadening reach of Internet giant Amazon.com Inc. puts pressure on prices. While Haas had touted Ceconomy's ability to gain dominance through acquisitions, that strategy looks increasingly difficult as the shares plunge and management's credibility erodes.