Cyberpunk Fix Boosts CD Projekt as PlayStation Return Nears
Poland's biggest computer-game maker jumped after releasing its first major patch for its bug-ridden Cyberpunk 2077 game as it tries to get the title back into Sony Corp.'s PlayStation store.
The Cyberpunk changes released over the weekend focused on "various stability improvements and bug fixes" and will be followed by further patches, CD Projekt SA said Saturday. Its shares accelerated gains to 8.5% by 4:05 p.m. in Warsaw, the biggest increase in the WIG20 Index.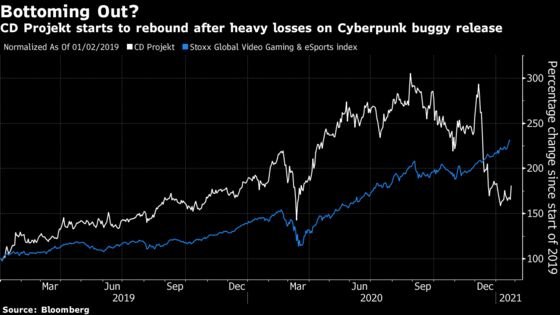 While the adjustments address the game's weak performance on older PlayStation consoles, the studio may need to do more to get the game back into Sony's online store after it was pulled late last year, according to Trigon Dom Maklerski SA.
"It seems that the patch slightly improved the performance of the game, but it's probably still not enough for Cyberpunk to return to the PlayStation store," Trigon's analyst Kacper Kopron said in a note. "We expect it to happen after a bigger patch is released in February."
Separately, Jefferies raised its recommendation for the stock to "buy" from "underperform" with a target price of 308 zloty. Its analyst Ken Rumph sees "positive catalysts ahead" including the game's eventual return to Sony store and the relaunch of its next-generation version.
The company's apologies for glitches should also have the stabilizing "mea culpa" effect, he said.
CD Projekt had no immediate comment when asked by Bloomberg News how quickly Cyberpunk could be reinstated into PlayStation store after the patch release. Sony Interactive Entertainment Polska's spokeswoman Monika Paplinska was unavailable for comment.
CD Projekt traded as high as 276.6 zloty on Monday. Short positions on stock started to stabilize around 9% of total shares outstanding, compared with 10% peak in start of year, Markit data show.
The futuristic Cyberpunk production, a major release in the gaming industry and a make-or-break venture for the Polish studio, received poor reviews because of glitches on older-generation consoles. CD Projekt lost more than a third of its market value after the outcry, and was pushed to offer refunds.
In recent days, major online stores such as Amazon and Best Buy began offering discounts of almost 60% on the Cyberpunk console version, triggering concern about revenues from the game. The company expected earlier that patches would pave the way for the games return to PlayStation store.