CBS Revenue Misses Estimates With Reruns Falling From a Year Ago
(Bloomberg) -- CBS Corp. executives spent the better part of an hour Thursday touting their company's bright future online, with streaming services that are adding millions of customers a year. But it was an old business -- sales of reruns -- that tripped up the company to start 2019.
The owner of the most-watched TV network in the U.S. reported first-quarter sales that missed analysts' estimates because of a shortfall in content licensing and distribution revenue. That revenue fell 3 percent from a year ago, when CBS sold the rights to show "Dexter," a drama about a serial killer that ended in 2013.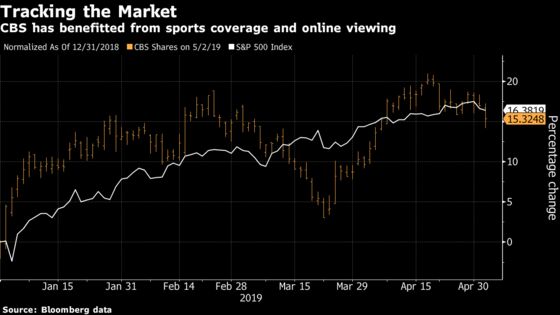 CBS said the shortfall was a one-time blip, and that licensing sales would less lumpy in the quarters to come. But shares of the broadcaster fell as much as 1.8 percent in extended trading Thursday after the results were announced. The stock was up 15 percent this year as of Thursday's close, compared with 16 percent for the S&P 500.
"Content licensing can vary quarter to quarter," Chief Financial Officer Christina Spade said on a call with analysts.
CBS, whose board has weighed a merger with Viacom Inc., said most of its businesses thrived last quarter, including streaming services that grew by 71 percent. The CBS All Access and Showtime online services had a combined 8 million U.S. subscribers at the end of 2018, and are projected to reach 25 million domestically by 2022.
CBS has already introduced All Access in Canada and Australia, and next plans to expand to Latin America and Western Europe.
In recent years, the TV industry has been plagued by audience losses to streaming alternatives like Netflix -- a fear that weighed down the shares of cable TV programmers again on Thursday. With its online services growing, CBS said it's bucking the trend.
The company is increasing its programming budget to more than $8 billion this year from about $7 billion in 2018. That increase reflects higher spending on sports -- CBS aired the Super Bowl in 2019 -- but also a growing slate of shows for All Access. Spade said the company had identified $175 million in potential savings that will pay for some of that spending.
"We are seeing strong growth here in the second quarter thanks to premium original series such as 'The Twilight Zone' on CBS All Access and 'Billions' on Showtime," acting Chief Executive Officer Joe Ianniello said in a statement.
CBS gets its sales chiefly from advertising, content licensing, and fees from subscribers and the affiliated TV stations that carry its programs. The company has pushed hard to increase them all.
Thanks to the Super Bowl and the March Madness tournament, advertising revenue jumped 18 percent to $2.04 billion in the first quarter. At the same time, affiliate and subscription fees grew 12 percent. But with licensing revenue down, total sales of $4.17 billion missed the $4.3 billion that analysts projected. Profit rose to $1.37 a share, meeting estimates.
The company provided no update on the state of merger conversations with Viacom. Both CBS and Viacom are controlled by the Redstone family, which has at times pressed the companies to merge.