CBS Embodies #MeToo Ambivalence and Hope
(Bloomberg Opinion) -- A year ago, the world outside Hollywood would learn the name Harvey Weinstein and never forget it. That name would morph beyond the man into a symbol of the toxic culture that galvanized the #MeToo movement, a culture that had done a better job of protecting sexual predators in positions of power than their victims, and kept women silent about harassment and assault for fear of retaliation or not being believed.
The #MeToo floodgates were first opened with the Weinstein allegations last October, but CBS Corp.'s Les Moonves — though not a household name like Matt Lauer, CBS's own Charlie Rose, and some of the others before him — has since become the most powerful figure taken down by allegations of sexual misconduct. Hand-picked by mogul Sumner Redstone to lead the TV-network operator in 2006, Moonves had long been perched atop the news and entertainment giant with the ability to make or break the careers of scores of actors, writers, newscasters and so on. Under Moonves, CBS directly employed more than 12,000 people, and he was a steward of some $20 billion of shareholder money.
There's a societal ambivalence toward the #MeToo movement and it's encapsulated by what's occurred at CBS. On the one hand, #MeToo has taken away a lot of the shame and fear of speaking up about sexual assault, it's made pariahs of some of the accused, like Weinstein and Moonves, and it's given women hope. But there are those who say, for example, that Christine Blasey Ford — the woman who said Brett Kavanaugh, the recently confirmed Supreme Court justice, sexually assaulted her when they were in high school — is a liar, that accusations shouldn't be presumed true, and that men in this country are under attack. Axios's Kim Hart captured the conflicting reactions here.
Just as society has been torn asunder by the political backdrop in the Kavanaugh matter, CBS was fraught in its own ways. Before any allegations were ever made public, the company's controlling shareholder, Shari Redstone, had been wanting to do a deal for some time that Moonves, as chairman and CEO, opposed. That created a rift between the two, which then had most of the Moonves-friendly board gearing up for battle against her. When the first bombshell New Yorker story was about to publish in July that would detail accusations against Moonves by six women, CBS's independent directors released a bit of a loaded statement. It said it was committed to investigating such claims, but also noted that the timing "comes in the midst of the company's very public legal dispute" with Redstone and that CBS's management — Moonves — has their "full support." The Redstone fight aside, Moonves was also considered the best in TV programming, a reputation backed by CBS's consistent ratings lead.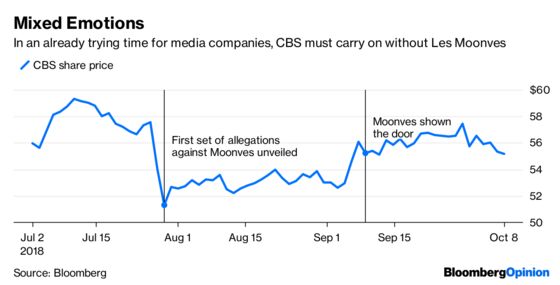 It took a second article six weeks later containing six more women's allegations, a scorching spotlight on the company, and revelations by some board members that Moonves had misled them about a matter involving one of his accusers in order for him to be shown the door. The timeline may have seemed relatively swift to outside observers, but rumors about Moonves's alleged misconduct had circulated many months before the New Yorker piece and the board appeared to do little to look into the situation and address it head on. Needless to say, I gave CBS's board a flunking grade. 
The board looks very different now. Not only were six directors replaced, but CBS — and its sister company, Viacom — is now among a tiny group of American companies that have female-majority boards. According to an analysis by FactSet, that's true for only 14 members of the Russell 3000 Index. CBS and Viacom would be numbers 15 and 16, if you exclude Sumner Redstone from their count. The 95-year-old chairman emeritus no longer has a voting role on board matters as his health has deteriorated in recent years, leaving him bedridden and communicating through an iPad. (Shari Redstone, his daughter, overhauled Viacom's board in 2016, which then led to the replacement of its CEO, setting the business up for a long but encouraging turnaround.)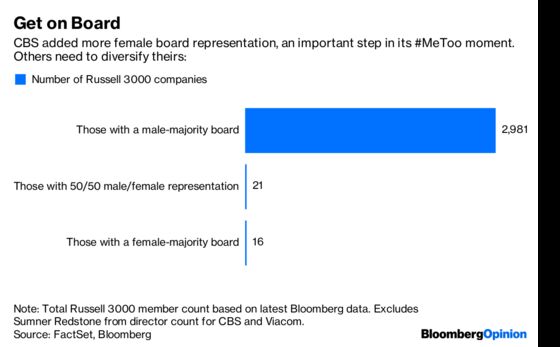 Others at CBS have left or been booted in the wake of the Moonves scandal, including Jeff Fager, the longtime head of the network's "60 Minutes" news show, who was also accused in the New Yorker article of misbehavior and fostering a threatening culture at the news division. Meanwhile, the New York City Commission on Human Rights and the Manhattan district attorney's office have opened inquiries into CBS. 
Times are changing. A few weeks ago, I lamented the discouraging takeaways from the Moonves saga, such as the sexism and inequality put on full display. (Last week's events in Washington couldn't have been much more more encouraging for sexual-assault victims.) But I feel differently today, more optimistic about the future. It really is a significant statement that CBS now has five female directors — because a change in corporate culture must start at the top, and it should lead to more diversity among CBS's internal leadership. I noted in August the extreme gender and power imbalance in key behind-the-scenes roles on TV shows and film sets, and how that helps explain the perpetuation of sexist stereotypes on camera, which then ooze into society. CBS has been one of the worst offenders: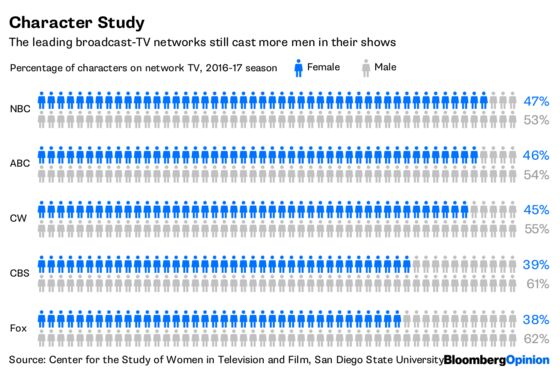 It's why curtailing sexism and harassment at CBS, a media company that shapes so much of society and people's opinions, is far more powerful than just a single company's reckoning.
Given how widespread sexual harassment is and how long certain behaviors have gone on unchecked, Moonves is unlikely to be the last big name associated with #MeToo. But it could be his exit that, slowly, brings about some of the broadest and most meaningful change. 
This column does not necessarily reflect the opinion of the editorial board or Bloomberg LP and its owners.
Tara Lachapelle is a Bloomberg Opinion columnist covering deals, Berkshire Hathaway Inc., media and telecommunications. She previously wrote an M&A column for Bloomberg News.