The Les Moonves Cloud Follows CBS
(Bloomberg Opinion) -- It may appear as though CBS Corp. made it through the Les Moonves sexual-harassment scandal relatively unscathed, but that's not quite the case.
The company posted third-quarter results Thursday afternoon, its first earnings report since Moonves's downfall. Acting CEO Joseph Ianniello, who is standing in for Moonves until a permanent replacement is named, called it CBS's "best third quarter ever in revenue and earnings per share"—spoken like someone who really wants the gig full time. Profit did come in above analysts' expectations as political ads boosted sales for the TV network. The shares were pretty much unchanged in after-hours trading, having risen to $58.49 apiece during regular market hours, their highest level since July. 
There are still some big unresolved matters at CBS, and the stock is reflecting this state of uncertainty by the simple fact that CBS's valuation now significantly lags behind that of its closest media peers. Its enterprise value is equal to about 9 times estimated Ebitda for the forward 12-month period, about a 9 percent discount to the group average: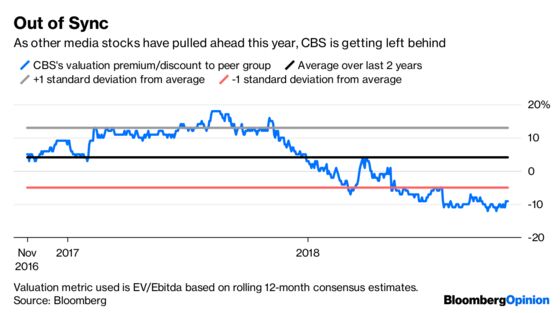 That means that even though CBS shares look like they're rebounding, investors aren't valuing them as highly as shares of Walt Disney Co., 21st Century Fox Inc. and Discovery Inc. relative to their profit-making potential. It's also interesting that both Disney's and Fox's valuation multiples have risen amid their pending $85 billion merger transaction, in which Disney will buy Fox's TV and film studios and cable-entertainment networks (the remaining Fox entity will focus on news and sports). 
With Netflix Inc.'s disruption to the industry, AT&T Inc. ramping up investment in its newly acquired Time Warner division (now called WarnerMedia) and the Disney-Fox deal in the balance, CBS—though often a prime-time TV ratings leader—is looking more and more small fry. And while Ianniello reportedly sided with Moonves in resisting controlling shareholder Shari Redstone's calls to explore a merger with Viacom Inc., that's increasingly looking like the end game for both companies. At this point, there doesn't seem to be other buyers for either of them. 
There would be benefits to combining CBS and Viacom. Redstone has a standstill agreement with the board that prevents her camp from pushing for merger negotiations for at least two years, though it's been noted that such a provision doesn't necessarily stop the board's independent directors from doing so. 
CBS needs two things: a permanent leader and a deal. My bet is that person won't be Ianniello and thus that deal will be Viacom. 
This column does not necessarily reflect the opinion of the editorial board or Bloomberg LP and its owners.
Tara Lachapelle is a Bloomberg Opinion columnist covering deals, Berkshire Hathaway Inc., media and telecommunications. She previously wrote an M&A column for Bloomberg News.