Caterpillar and 3M Show What Peak Earnings Look Like
(Bloomberg Opinion) -- This is what a peak in industrial earnings looks like.
Caterpillar Inc. and 3M Co. plunged on Tuesday following the release of their third-quarter results as investors worried the best sales growth and profit margins were behind them. Peak earnings woes have dogged industrial companies as President Donald Trump's trade war with China exacerbates the cost pressures that are typical later in an economic cycle. To mitigate the extra expenses, companies are raising prices and doing so with success: at 3M, the spread between price increases and raw-material costs was a positive 30 basis points, while Caterpillar gave partial credit to higher prices for its third-quarter operating-profit improvement.
At issue is whether industrial markets are strong enough to continue to absorb those increases without sacrificing momentum. Again, growth isn't falling off a cliff, but there were enough yellow flags in 3M and Caterpillar's reports to indicate we may have reached a turning point.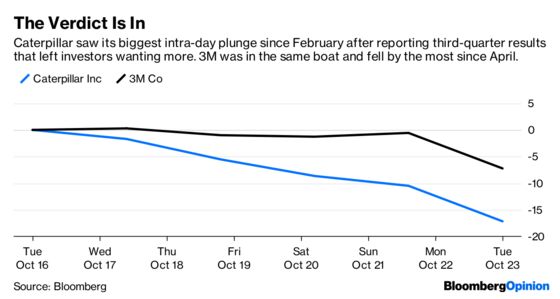 Caterpillar reported a $17.3 billion order backlog at the end of the third quarter, about $400 million lower than the second quarter, with decreases across its three primary segments. The company released September machinery-sales data late Monday that showed a slowdown in growth on a three-month rolling-average basis relative to its August report as construction-equipment demand decelerated. At 3M, core sales grew just 1.3 percent in the third quarter, falling well short of analysts' expectations for a gain of 3 percent.
The biggest trouble spots at 3M were the automotive, drug-delivery and electronics markets, all of which have short sales cycles and thus are more vulnerable to shifts in demand. But the weakness was widespread, with none of 3M's major business units — including the safety and graphics division that's been a workhorse this year — showing more than a roughly 2 percent gain in revenue excluding the impact of currency swings and M&A. Surprisingly, 3M's consumer unit saw organic sales drop 2 percent in the quarter. 3M had started the year calling for 2 percent to 4 percent growth in that business in 2018.

And while both Caterpillar and 3M have indicated they can keep offsetting rising costs with price increases, that tension serves only to keep margins more or less neutral and risks keeping a lid on earnings expansion. Caterpillar's EBIT margin was a bit light relative to estimates and the company failed to raise its guidance for the full year despite modestly better-than-expected third-quarter results. The outlook excludes a $95 million tax benefit that Caterpillar disclosed Tuesday. 
3M's third-quarter adjusted earnings per share fell short of analysts' estimates, having been dragged down by foreign-exchange swings that also forced the company to lower its guidance for the full year. 3M now expects to earn $9.90 to $10 a share, down from an earlier forecast of $10.20 to $10.45. Raw-material inflation and the fallout from tariffs are also weighing on results. Analysts had been bracing for a guidance cut but they were unprepared for one of this magnitude. And now the question is whether even this lowered range is achievable for 3M as it continues to combat cost headwinds.
Trump's economic adviser Larry Kudlow said Tuesday that the president will meet with Chinese leader Xi Jinping at the Group of 20 nations summit. That's one of the the first signs of progress in negotiations since talks broke down in August and will be welcomed by industrial company leaders who are frustrated with an aggressive trade policy that's taken the wind out of what otherwise should have been a very strong year. But Kudlow cautioned a major breakthrough is unlikely. This meeting of the minds, such as it is, may be simply too little, too late. 
This column does not necessarily reflect the opinion of the editorial board or Bloomberg LP and its owners.
Brooke Sutherland is a Bloomberg Opinion columnist covering deals and industrial companies. She previously wrote an M&A column for Bloomberg News.