Now You Can Gorge Guilt-Free: 1-Month Bill Yield on Par With S&P
(Bloomberg) -- Chalk up another win for U.S. Treasuries.
First it was the 12-month bill, and the six-month, and then the three. Now, the interest rate on the one-month Treasury bill is close to overtaking the dividend yield on U.S. stocks for the first time in a decade -- underscoring why risk-free short-term government debt is trumping the allure of stocks for income-hungry investors.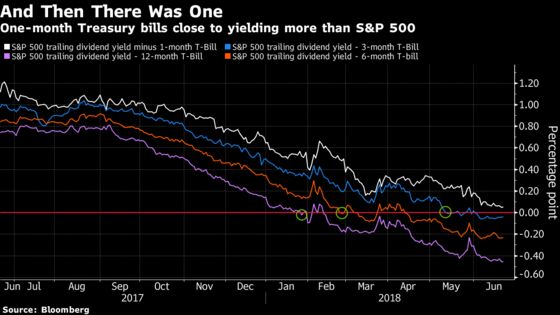 Short-term yields have spiked as the U.S. ramps up sales of bills to fund fiscal stimulus planned over the next two years. For money managers, the Treasury's tilt to the short end has delivered a smorgasbord of cash-like assets, and encouraged guilt-free gorging on instruments untainted by credit risk and exposure to a sudden downturn in stocks.
One-month Treasury bills pay 1.84 percent versus 1.24 percent at the start of the year, while the trailing 12-month dividend yield on the S&P 500 looks relatively modest at 1.89 percent.
On a forward basis, the spread between U.S. stock payouts and the one-month government bill is approaching zero for the first time in a decade.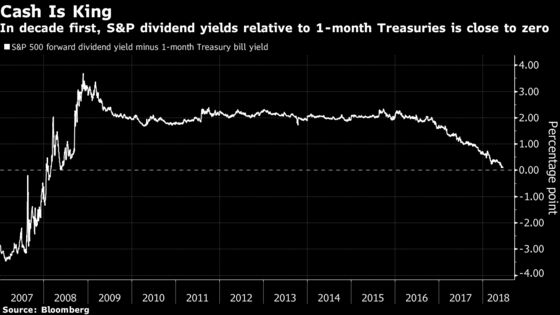 Flows into U.S.-listed exchange-traded funds show how the rotation into money-market instruments is already underway.
ETFs that invest in ultra short-term debt have drawn $17 billion so far this year, accounting for about 34 percent of their assets under management, according to data compiled by Bloomberg. Conversely, dividend funds have seen outflows in 12 of the last 13 weeks, including a six-week stretch of outflows in excess of $1 billion, according to EPFR Global.
Given the payout trajectory, strategists say shorter-term U.S. debt will prove even more appealing if U.S.-China frictions intensify.
"If trade tensions remain a front page issue going forward," money will flow into Treasury funds at the expense of U.S. small-capitalization stocks, Evercore ISI strategists led by Dennis DeBusschere wrote in a note.