Cash-Heavy Consumers Are Key to Canada Rebound, Economists Say
(Bloomberg) -- Canadians' improving financial health is stoking optimism about a sharp economic recovery once the pandemic is over.
That's one takeaway from top bank economists at the annual outlook conference hosted by the Economic Club of Canada. In a virtual panel Thursday, the unprecedented increase in household wealth last year was seen as a key catalyst for growth in 2021.
In the midst of a deep economic crisis, Canadians became significantly richer from massive income support payments, surging home prices and stock market gains. Household net worth rose by more than C$600 billion ($469 billion) in the first six months of the pandemic, according to Statistics Canada data.
"During the first year of a recession there is just no precedent for a positive wealth effect," said Stefane Marion, chief economist at National Bank of Canada in Montreal. "This is crucial in helping sustain the resilience of the Canadian economy."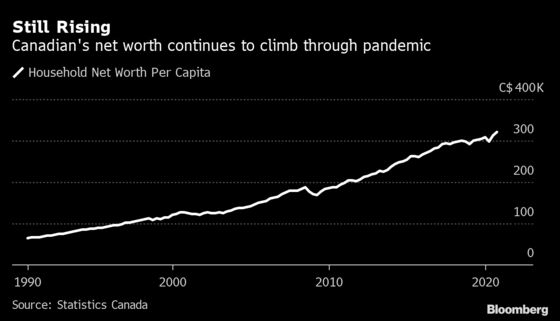 According to a Bloomberg survey of economists last month, growth is seen surging to an above 5% annualized pace in the final nine months of this year.
In the early days of the pandemic, Prime Minister Justin Trudeau's government acted quickly to implement income and credit support programs to keep businesses and households afloat. As a result, average disposable income increased by 12% during the pandemic, according to Marion.
This was complemented by the Bank of Canada cutting interest rates to record lows, and committing to keeping them there for years to support the recovery. The coordinated action has resulted in higher savings rates and lower debt-to-income levels for the average Canadian.
Generous fiscal and monetary support has also contributed to rising equity prices and a booming housing market as consumers take advantage of cheap money policies.
"With this type of money going to households we avoided a wave of insolvencies and defaults that has characterized every recession in Canadian history," Marion said.
The expectation is that when a majority of the population is vaccinated, consumers will go on a spending spree.
"Give us the vaccine and get out of the way because people are dying to go to restaurants again, they just aren't willing to die to go to a restaurant," said Avery Shenfeld, chief economist at Canadian Imperial Bank of Commerce. "Once people have their vaccine I think we will see a huge unleashing of pent up demand."
Economists acknowledge there is a cohort of consumers that have been left out. Lower-waged workers, particularly in service industries where jobs losses are more pronounced, have been hardest hit and benefited least from the pick up in wealth.
"If you look at workers under C$800 a week, employment for them is still below pre-crisis levels," said Craig Wright, chief economist at Royal Bank of Canada, adding that employment for those making above C$800 a week has completely recovered.
"There's a real divergence there, and of course that's going to leave some behind," Wright said. "That's a challenge for policy makers as well as the businesses as we move forward."