Cash-Flush Kenyan Banks Lift Provisions to Brace for Dim Outlook
Kenya's two biggest banks are probably over the worst as far as potential loan losses go, but may still struggle to boost revenue in the wake of the coronavirus pandemic, according to AIB-AXYS Africa.
Equity Group Holdings Plc increased first-half provisions eightfold, while KCB Group Plc's rose almost four times from a year earlier, hurting earnings. The nation's lenders are helping customers restructure their debt after the Covid-19 outbreak stalled economic output and shut schools.
KENYA INSIGHT: Economy Can Bounce Back Quickly If All Goes Well
The lenders took an aggressive approach to provisions to avoid setting aside more funds during the rest of 2020, said Sarah Wanga, head of research at the Nairobi-based brokerage that was formed out of the merger of AIB Capital Ltd. and ApexAfrica Capital Ltd. Profit will continue to come under pressure due to the expected loan losses and a limit on transaction fees banks can charge, she said.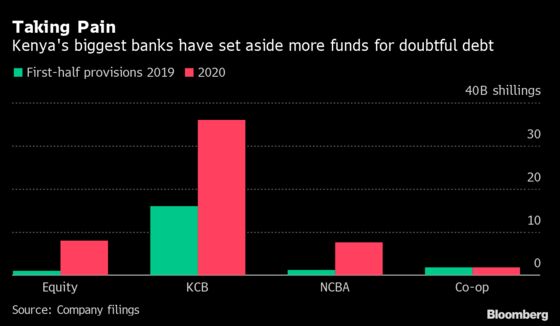 Other lenders, such as Co-operative Bank of Kenya, which took a more conservative approach to provisions, may have to bolster these later in the year, Gerald Muriuki, an analyst at Genghis Capital said.
As a result, profitability across the sector "is going to vary," he said.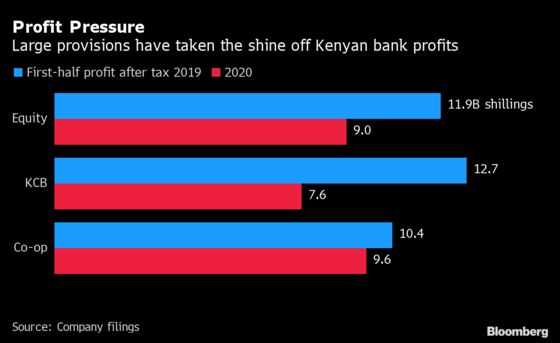 "There is not much lending that is going to happen this year," which will result in "depressed interest-income line growth" Muriuki said. Non-interest revenue will suffer after the central bank extended measures waiving some transaction fees for customers until the end of the year, he said.
Kenya's economy will probably expand 1% to 2% this year, the parliamentary office said on Wednesday. While that's better than earlier forecasts for a contraction, the slower growth may weigh on the ability of borrowers to repay their debt and suppress demand for loans.
While revenue growth at Equity and Co-op was relatively muted, KCB managed a 17% increase as Kenya's biggest bank by assets invested in less risky government securities, which jumped 65% during the first half.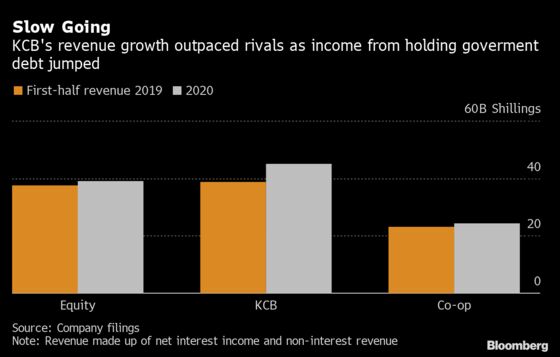 While the top banks are flush with cash, they're unlikely to pay any dividends this year unless there is a change in their performance in the second half, according to Faith Mwangi, a Nairobi-based investment analyst at Tellimer Inc.
Equity and KCB have a core-capital to total-liabilities ratio of 12.3% and 9.5% respectively, above the 8% minimum. NCBA Group Plc had a liquidity ratio of 54.9% at the end of June, far above the 20% regulators require.