Cases Far From China Prompt Worry of Coronavirus's Global Spread
(Bloomberg) -- Clusters of coronavirus cases in Italy and Iran are sending worrying signs that the new coronavirus has already spread far beyond China and is creating new outbreaks around the globe.
The coronavirus appears to cause only mild symptoms in most. It can also take as long as two weeks to incubate, meaning patients can travel or go to work for days before showing signs of illness. Those two characteristics have created a situation where the virus, officially called SARS-CoV-2, may have quietly spread from the center of the outbreak in China and is only now starting to create noticeable new clusters of disease.
"There's a lot of speculation about whether these increases in cases mean this epidemic has now become a pandemic," World Health Organization Director-General Tedros Adhanom Ghebreyesus said at a press conference Monday. "For the moment, we are not witnessing the uncontained global spread of the virus."
"Does this virus have pandemic potential? Absolutely, it has," Tedros said. "Are we there yet? Not yet."
More than 70,000 people in China have fallen ill. The country put up sharp restrictions on movement, and other nations have limited travel and set up border checks to try to spot and quarantine anyone who might be sick.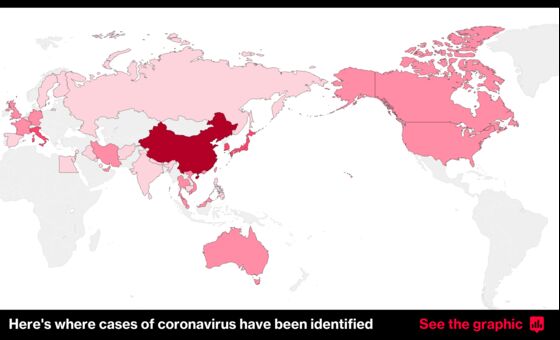 But over the weekend, new cases were reported in Afghanistan, Bahrain and Kuwait. In South Korea, there are more than 800 cases.
In Iran, at least 12 people have died, and the government there has said there are hundreds of suspected cases. "We may only be detecting severe cases, and the deaths may be over-represented in that," Michael Ryan, executive director of the WHO's Health Emergencies Programme, said Monday.
The new cases have raised worries that the outbreak could enter a new phase, shifting from a Chinese epidemic, with a few scattered cases caught as they left the country, to a pandemic with independent outbreaks around the globe. Some of the new cases have appeared in patients who haven't traveled to China or been in touch with somebody who has, suggesting that there are hidden chains of infection.
"Although the total number of cases outside China remains relatively small, we are concerned about the number of cases with no clear epidemiological link, such as travel history to China or contact with a confirmed case," the WHO's Tedros said at a separate event Saturday.
In the U.S., the Centers for Disease Control and Prevention said earlier this month that it will start using its flu surveillance network to screen for the coronavirus, working under the assumption that it could be circulating in mild form, masquerading as the seasonal influenza. The surveillance screening will start in Los Angeles, San Francisco, Seattle, Chicago and New York, an be expanded to other cities.
"This is just the starting point, and we plan to expand to more sites in the coming weeks until we have national surveillance, Nancy Messonnier, director of the CDC's National Center for Immunization and Respiratory Diseases, said on Feb. 14.
The U.S. disease agency has said it preparing as if the virus's spread in the U.S. is inevitable, that border control measures to screen travelers were about slowing, not stopping, the outbreak.
The U.S. has only a handful of cases so far -- fewer than 20 patients have been diagnosed in the U.S. Checks on travelers from China, plus reductions in travel from the country, have cut off a primary path for the potential import of cases.
But not every path, Messonnier said Friday during a press conference.
"We never expected we'd catch every traveler with novel coronavirus from China. It would be impossible. We're not seeing spread here in the United States yet, but it is possible, even likely, that it may eventually happen," Messonnier said. "This buys us more time to prepare our communities for more cases and possibly sustained spread."