Carry Traders Reeling From Dollar Surprises Look Elsewhere
(Bloomberg) -- Carry traders blindsided by bouts of dollar strength are looking beyond the currency to fund their bets -- even if it means giving up some returns.
Borrowing dollars to buy assets in higher-yielding currencies, a usually profitable strategy in emerging markets, proved loss-making in the first quarter as U.S. yields surged. That pushed money managers including Fidelity International and AMP Capital to cut dollar-short positions and fund their arbitrage with euro or yen, given the low interest rates in those currencies.
While that helped traders protect their carry returns, it also underscored the need to have a broad basket of funding currencies to tide over dollar volatility. Now, even as the dollar weakens again and Treasury yields moderate, they continue to finance part of their emerging-market investments with other currencies.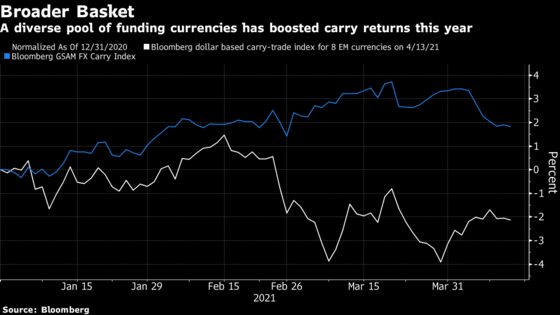 "Having a diversified basket of funding currencies against emerging-market long carry positions has the advantages of lower risk and an overall better Sharpe ratio on the trade versus one that's funded solely out of the U.S. dollar," said Nader Naeimi, the head of dynamic markets at AMP in Sydney. "I am happy to stick with a diversified basket."
A Bloomberg index of carry-trade returns from eight developing-nation currencies, funded by short positions in the greenback, fell 3.1% in the first quarter, the first decline in a year.
Meanwhile, a strategy that involves borrowing the lowest-yielding currencies to invest in higher-yielding assets jumped 3.4% in the first three months of the year.
At the core of this divergence was the dollar's resurgence. A near-consensus call at the end of last year for a weaker U.S. currency came undone as the prospects for a sharp recovery in the world's largest economy drove 10-year Treasury yields up by the most since 2016. With an accelerated vaccine rollout and unprecedented fiscal stimulus, the rebound is set to outpace its developed peers.
While the Federal Reserve has been reluctant to push back against higher yields, the European Central Bank has ramped up bond-buying and the Bank of Japan has pledged to keep the yield curve stable and low.
While the start of the second quarter has flipped that trade -- dollar-funded carry trades are outperforming again with a 2.2% return this month -- traders still bet on volatility in the U.S. currency. So last quarter's tactical dash into the euro and yen as funding currencies is now morphing into a strategic choice to reduce dollar dependency.
Fidelity International, which sees carry opportunities in Brazilian real and Ghanaian cedi, prefers "to diversify the funding of these positions away from exclusively using the U.S. dollar," said Paul Greer, a money manager in London at the firm, which oversees about $700 billion.
"In the near term, we think the dollar will appreciate against G10 peers as the U.S. continues to demonstrate global leadership on growth recovery," he said. "Looking further ahead, we expect the dollar to resume its medium term trend of depreciation, which should be supportive of the EM carry trade."
The U.S. currency has strengthened against 17 of 22 emerging-market currencies this year. In comparison, the euro has dropped against nine of the same group and the yen is weaker against 18 of those currencies.
Investors looking for interest-rate arbitrage in emerging markets need not necessarily go to Japan or Europe to raise funds. There are plenty of low-rate currencies within the developing world that can do the job.
Greer of Fidelity uses the Polish zloty and Hungarian forint as carry-funding currencies. Alessio de Longis, the New York-based head of tactical asset-allocation solutions at Invesco Ltd., drives his wagers with short positions in the currencies of South Korea, Taiwan, Chile and the Czech Republic. His basket is gaining this year, even though his long positions included some of the world's worst-performing currencies such as the Brazilian real and Turkish lira.
World's Worst Currencies Pay Off for Debt Veteran at Invesco
Even those who continue to fund their carry trades mostly with the dollar are turning wary of that strategy.
"It's been pretty painful," said Edwin Gutierrez, head of emerging-market sovereign debt at Aberdeen Standard Investments in London. "The second quarter could be more of the same."