Carrefour Could Turbocharge Blistering Start for French M&A
(Bloomberg) -- Dealmaking in France is heating up, with potential deals involving grocer Carrefour SA and technology group Atos SE raising the prospect of a record-breaking start to the year.
French companies have already agreed to more than $7 billion of transactions in 2021, up nearly 300% from a year earlier, for the fastest start in nearly two decades. The volume has been driven by deals including Sanofi's purchase of British biopharmaceutical developer Kymab for as much as $1.45 billion.
The year-to-date figure for French mergers and acquisitions will go through the roof if proposed deals involving Carrefour and Atos -- which could total more than $55 billion including debt -- come to pass. Canada's Alimentation Couche-Tard Inc. is exploring a takeover of Carrefour to create a trans-Atlantic retail giant, while Atos has approached U.S. competitor DXC Technology Co. about a potential combination.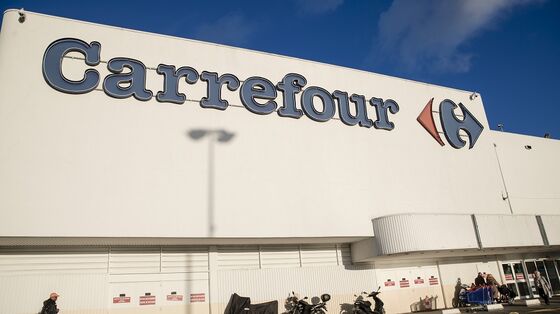 "We've seen in France a few large deals falling into a broader set of several European megadeals," said Maja Torun, head of investment banking France at JPMorgan Chase & Co. "We remain optimistic as we're moving into 2021 that this sentiment will prevail," subject to the constantly-evolving public health situation, she said.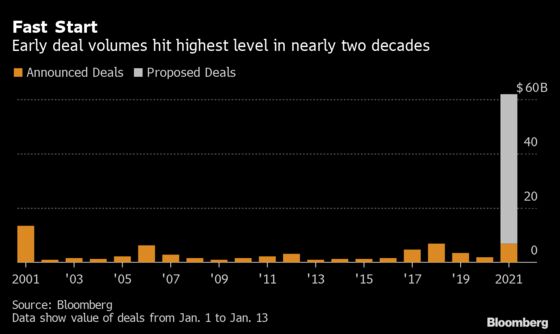 A successful sale of Carrefour is far from certain, with the French government having already signaled concerns over foreign ownership of the country's food supply. France has the power to formally block a takeover and could also set strict conditions on a deal before giving it the go-ahead.
Even without Carrefour, a host of other potential deals could yet add to the early 2021 haul. French billionaire Xavier Niel's blank-check company is studying a potential purchase of supermarket chain Grand Frais, Bloomberg News reported last month. Engie SA is planning to sell billions of euros worth of assets in the coming years to raise money for renewables and other services tied to fighting global warming.
Veolia Environnement SA, meanwhile, continues its attempts to boost shareholder support for a plan to take over French rival Suez SA and create a global giant in water and waste treatment.