Carol Channing, Raspy-Voiced 'Dolly' of Broadway, Dies at 97
(Bloomberg) -- Carol Channing, the raspy-voiced star who created two of Broadway's unforgettable characters and songs, in "Hello, Dolly!" and "Gentlemen Prefer Blondes," has died. She was 97.
She died Tuesday at her home in Rancho Mirage, California, according to the New York Times, citing her publicist, B. Harlan Boll. She had two strokes in the past year.
Channing's five-decade career included cabaret, film and television as well as the theater, where she won her greatest acclaim with a gravelly voice, wide smile and platinum blonde bouffant -- which she achieved through wigs, as she was allergic to bleach.
She starred as Arkansas gold digger Lorelei Lee in "Gentlemen Prefer Blondes," which opened on Broadway in 1949. She popularized the song "Diamonds Are a Girl's Best Friend" along with Marilyn Monroe, who played Lorelei in the 1953 film version.
In "Hello, Dolly!," Jerry Herman's musical version of the Thornton Wilder play "The Matchmaker," Channing used her bubbly wit to play the gaudy, self-assured title role of Dolly Gallagher Levi. New York Times theater critic Brooks Atkinson hailed her "shrewdly mischievous performance."
All told, on Broadway and off, she played Dolly in 5,000 performances over 30 years, earning $5 million in her last tour, a 30th-anniversary production that began on Broadway in 1995.
Carol Elaine Channing was born in Seattle on Jan. 31, 1921, the only child of George Channing, a newspaper editor, and the former Adelaide Glaser. It wasn't until she wrote her 2002 autobiography that she disclosed the family secret that her father's mother had been black.
"I was 16 years old and my mother told me," she said on CNN's "Larry King Live."
She grew up in San Francisco and briefly studied theater at Bennington College in Vermont. Her first stage appearance was in 1941 as a singer in "No for an Answer," a play that ran three performances. She also was the understudy to Eve Arden in the Broadway musical "Let's Face It" before moving to California. She landed a role in a Hollywood revue, "Lend an Ear," and moved with it back to New York.
In 1949, she got her first starring role, as Lorelei Lee in "Gentlemen Prefer Blondes" on Broadway, and went on its national tour from 1951 to 1953. She would reprise the role in 1974 in "Lorelei, or Gentlemen Still Prefer Blondes."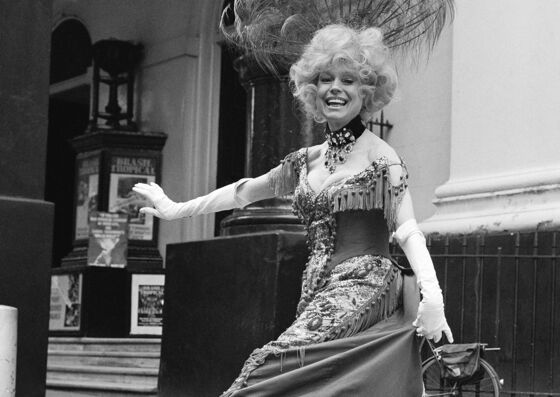 She went on to star in dozens of Broadway and touring plays, including "Pygmalion" and "Wonderful Town."
Channing was producer David Merrick's second choice, after Ethel Merman, for the starring role in "Hello, Dolly!" in 1964. She won Tony and New York Drama Critics awards for best actress in a musical.
She lost the 1969 "Hello, Dolly!" movie role to Barbra Streisand. "Barbra is one of our great creative forces, but a barrel of laughs, she ain't," Channing jeered in "Just Lucky I Guess," her irreverent 2002 memoir, which she packed with backstage stories about Broadway and Hollywood stars.
Channing was given a Tony Award for lifetime achievement in 1995.
When she couldn't find Broadway roles, Channing performed in nightclubs and cabarets. She starred in touring musical revues including the "The George Burns-Carol Channing Musical Revue" in 1962 and "Carol Channing and Her Ten Stout-Hearted Men" in 1970, winning a London Critics Award.
She appeared in several films, winning a Golden Globe and an Academy Award nomination as Muzzy in "Thoroughly Modern Millie."
Channing recorded more than 20 children's albums and added her husky voice to several animated movies and TV shows aimed at youngsters.
She guest-starred on more than 50 TV shows, movies and specials from the late 1970s to the 1990s, including "The Love Boat," "Alice in Wonderland" and "Touched by an Angel."
In 2012, the documentary "Carol Channing: Larger Than Life" traced her show business career.
Channing's first two marriages ended in divorce. Her third marriage, in 1956, was to producer Charles Lowe, who helped engineer her successful Las Vegas nightclub act and several TV specials. Lowe became her manager and adopted her son from her second marriage, Channing George Lowe, who would become an editorial cartoonist.
Channing filed for divorce from Lowe in 1998, claiming he physically and emotionally abused her. She said he squandered her money "like a drunken sailor." Lowe suffered a stroke and died in 1999.
Her autobiography sparked Channing's fourth marriage. In it, she wrote that she had loved her boyfriend from junior high school, Harry Kullijian. A friend of his read it and told him to call Channing. Kullijian, then 83, had thought Channing was dead. They married in 2003. Kullijian died in December 2011.