Carney Can't See BOE Intervening in Market to Calm Pound Swings
(Bloomberg) -- Bank of England Governor Mark Carney said there's almost no chance of the institution intervening in the foreign-exchange market to control swings in the pound.
Asked at a Parliament hearing how fast sterling would have to drop before the BOE would act, Carney noted the U.K. has a floating currency that's served the economy well. He added the bank would never intervene for monetary policy reasons.
He pointed to the sharp moves in the pound after the vote to leave the European Union in June 2016, saying the market worked well as investors assessed the "new realities" for the economy and U.K. assets.
"It was an orderly market," he said. "There were high volumes, big moves in sterling, but it moved to a level that was consistent, at least at that point, with the market's assessment of the new economic realities. We don't want to get in the way of that."
Carney's comments come as the U.K. suffers a political crisis. Prime Minister Boris Johnson has lost his majority in Parliament as he fights lawmakers trying to stop him leaving the EU without a deal.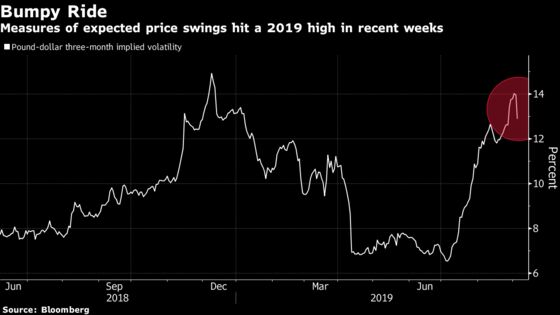 Also on Wednesday, the BOE published updated figures for its assessment of no-deal Brexit scenarios. It said preparations this year mean less damage to the economy, though the fallout will still be considerable. The drop in GDP from peak to trough is now seen at 5.5%, compared with 8% seen last November.
The only situation where the BOE might have to consider such dramatic action as currency intervention would be a breakdown in the market, where low volumes, price gaps and dysfunction in trading took place. But Carney said that's a very unlikely scenario.
"It would only be in the most extreme circumstances with respect to market functioning that we could contemplate any activity," he said.
The pound dropped below $1.20 earlier this week to the weakest since 2017. It has since recovered to above $1.21 as investors bet that the government's political struggles reduce the risk of a no-deal Brexit.
"I can't see a circumstance that we'd intervene either for market functioning purposes -- never say never on that -- but I would say on a personal basis at least never for monetary policy purposes," Carney said.