Cardi B's Record Label Warner Music Files for Share Sale
(Bloomberg) -- Warner Music Group Corp., the record group behind artists such as Cardi B, Ed Sheeran and Bruno Mars, filed for an initial public offering -- becoming the latest music company to cash in on the streaming boom.
Backed by billionaire Len Blavatnik, New York-based Warner Music filed for an offering of $100 million. But that's a placeholder sum used to calculate fees and is most likely to change.
Blavatnik and other investors didn't indicate in the filing how much stock they'll be selling. But they are expected to retain control, while allowing Warner Music to raise funds for acquisitions and other deals, according to a person with knowledge of the matter who asked not to be identified.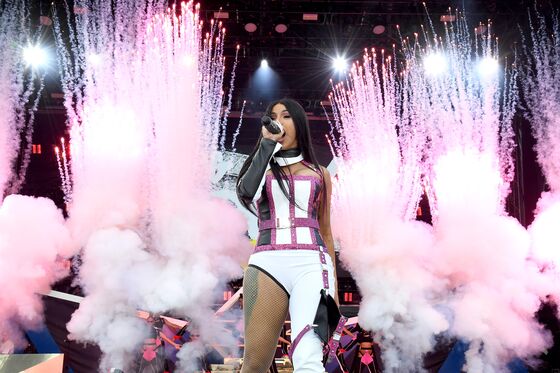 Music sales have surged in recent years thanks to the growth of paid streaming services from Spotify Technology SA and Apple Inc. That's boosted the value of music companies and enticed investors back to the record industry.
Vivendi SA agreed last year to sell a minority stake in Universal Music Group, the world's largest music company, to a group led by China's Tencent Holdings Ltd. That transaction valued the business at about $33.6 billion.
Blavatnik, a Ukrainian-American, has a net worth an estimated $25.1 billion, according to the Bloomberg Billionaires Index. He bought Warner Music for $1.3 billion in 2011, when the music industry was in the depths of a 15-year decline. The proliferation of free and cheap music on the internet had destroyed sales.
The timing was propitious. The company's sales have climbed by 50% since 2015. The company reported net income of $258 million in fiscal 2019 on revenue of $4.48 billion. Apple and Spotify account for 27% of that revenue, according to the filing.
"We adapted to streaming faster than other major music entertainment companies and, in 2016, were the first such company to report that streaming was the largest source of our recorded music revenue," the company said in a filing.
Morgan Stanley, Credit Suisse Group AG and Goldman Sachs Group Inc. are advising on the IPO.
Warner markets its music through labels such as Atlantic Records, Warner Records and Parlophone. It also owns Warner Chappell, a music publishing business. While the labels work with recording artists, publishers represent songwriters. Songwriters signed to Warner Chappell include Lizzo and Katy Perry. Recorded music made up 86% Warner Music's sales last year, but publishing is a stable, profitable business.
For a few years now, private equity investors have been paying high prices for closely held record labels and publishing outfits, betting on a long recovery for the industry.
But there have been few opportunities for public investors, with the notable exception of the May 2018 public offering by Spotify, the world's largest paid music service. Warner Music has been privately owned, while the two larger music companies, Universal and Sony Music Entertainment, are divisions of larger media and technology companies.
"Looking into the future," Warner Music said, "we believe the universe of opportunities will continue to expand, including through the proliferation of new devices such as smart speakers and the monetization of music on social media and other platforms."