Car Shopping By Click Hits Critical Mass
(Bloomberg) -- As much as anyone, New Yorkers understand the urgent need for a corned-beef on rye, a bottle of tequila or even a six-pack of dress socks. In this day and age, virtually anything a city dweller could want can be summoned to the door, post haste.
As of Thursday, Carvana has that one covered. The five-year-old online marketplace just started selling and delivering cars in the Big Apple, the 78th U.S. city in its budding digital dealership. The first machines to ship will be packaged on delivery trucks in oversized takeout bags, which makes for great marketing (just picture all the soup-dumplings that could fit in one of those.)
"We're presenting a new way to do something—the second-biggest purchase in a person's life," said Carvana co-founder Ryan Keeton. "It's just like Amazon—the best experience, the best product, the best price."
The New York expansion won't upend the world of Manhattan car-buyers or even Carvana investors, but it does represent a tipping point in the $1 trillion business of buying and selling cars in America. Armed with internet reviews and pricing minutiae, consumers are finally opting en masse to negotiate and buy their rides online, without ever kicking a tire or taking a test drive.
Carvana, which went public in May 2017, claims to be the fastest-growing car dealer in the country, period. In the second quarter of this year, it was selling about 250 vehicles a day and posting a profit of close to $2,200 per vehicle. It has about 11,000 machines listed on its platform and roughly one in five of its customers begin and close their car purchase on a smartphone.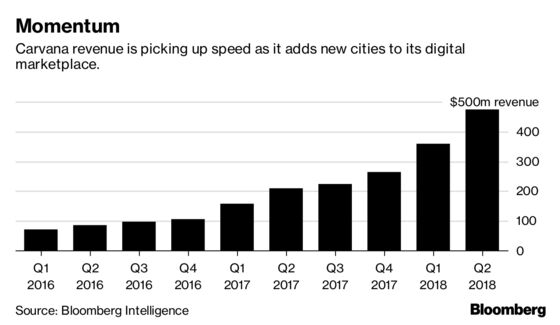 The startup offers pretty much everything a traditional car dealer does, including financing and warranties, plus a seven-day return window. This moment is, in essence, the company's de facto test drive. The share of buyers that return a vehicle over that period is in the mid single-digits, according to Keeton, and of those who send it back, roughly half end up buying a different Carvana car.
Carvana said its clear cost advantage over old-school dealers is that it doesn't need slick showrooms or slippery sales staff. Its New York operation comprises two warehouses where it can fix, clean and photograph cars, with a few folks ready with flat-beds to shuttle machines out to buyers on-demand, like a steady stream of two-ton pizzas.
"Our technology scales infinitely," Keeton explained. "And our ability to grow and open these markets is capital-light."
Ironically, the shift to online marketplaces is being catalyzed by those very old-school auto dealers. Carvana was launched in 2012 by DriveTime Automotive Group, a privately held, Phoenix-based consortium of traditional car stores. Carvana isn't totally virtual—it still pairs up with dealers on service contracts, leases garage space from DriveTime and pays to use its two corporate jets. But for a traditional dealership like DriveTime, Carvana is a digital skunkworks—a hedge on the future.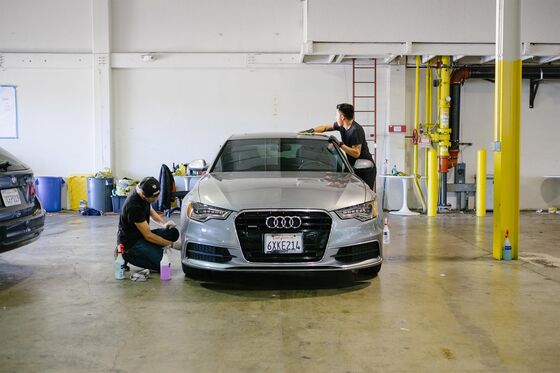 A similar alliance was forged last week on the West Coast. Lithia Motors, an Oregon-based chain of dealers with $10 billion in annual revenue, led a $140 million investment round in Shift Technologies, a digital car dealership focused on Los Angeles, San Francisco and nearby Silicon Valley.
"It's about doing things however, wherever and whenever our customers desire," Lithia CEO Bryan DeBoer said. "Many of the consumers—especially Gen-Yers and millennials—are thinking: 'I don't need to go to a dealer.'"
At the moment, some 82 percent of Lithia sales start with an online inquiry. Still, only 5 percent of the company's customers actually end up doing the entire transaction online. The stake in Shift ought should change that quickly—the company expects to collect roughly $145 million in revenue this year on about 8,500 vehicles sold.
Shift CEO George Arison said Lithia was particularly keen on his customer base. About 55 percent of Shift buyers are millennials, a group considered averse to haggling and possibly driving in general. "That's a unique space that any major auto retailer would love," Arison said. "And Lithia is super at logistics, real estate and inventory."

"In some ways," he said, "it's a near perfect strategic fit."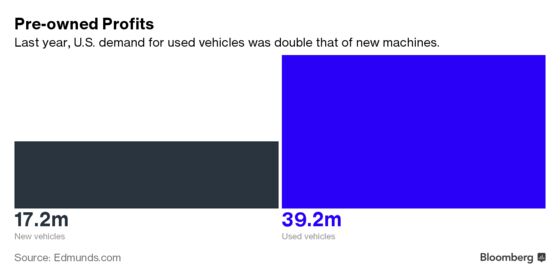 Not everyone is sure the new model will work. Mike Jackson, CEO of Fort Lauderdale-based AutoNation, the biggest dealership group in the country, managed to criticize Carvana while touting his group's digital prowess, saying AutoNation generates 35 percent of its business online.
"If you want to talk about the Carvanas of the world," Jackson said, "you basically have a West Coast business model, and an East Coast business model."
"East Coast is, you make money the old-fashioned way," he said. "And you attract an investor who appreciates and admires the fact that you can make money. Then you have the West Coast model, which is phenomenal growth at any cost with a shareholder who's willing to underwrite those losses, and to value the growth without any consideration about profitability—because every now and then, it all works out."
At the moment, both Shift and Carvana are relatively small. In its short life as a public company, Carvana has yet to turn a profit. Investors, however, have been impressed by its growth and prospects—its shares have risen four-fold from their IPO price.

But most players in the massive and hugely fragmented used-car game are pretty small. Just how fragmented is this patch? CarMax, arguably the leader, sold only about 2 percent of all the used-vehicles that moved in America last year. The Richmond, Va.-based seller still requires that buyers show up at one of its 188 stores to complete a purchase, though they can reserve a car online or set up financing. In its securities filings, CarMax nods at the future, noting that online-only car stores could "materially impact" sales. 
For drivers on Manhattan's Upper West Side, the closest CarMax outlet is about 80 miles away in New Haven, Conn. Or they can hoof it down to the cluster of new-car dealerships in Hell's Kitchen. Though, as of this morning, takeout at these 11th Avenue redoubts of shiny, expensive steel isn't the only option.