Capitol Rioters Blame Trump or Lax Security. Some Want a Deal
(Bloomberg) -- Jacob Chansley, the QAnon adherent who wore a horned coyote-skin headdress to the Capitol riot, is one of the most recognizable faces of the Jan. 6 siege by supporters of former president Donald Trump. Chansley was photographed standing at the Senate dais Mike Pence had deserted moments earlier, and authorities say he left the former vice president a threatening note.
Chansley's notoriety has prompted his St. Louis attorney, Albert Watkins, to attempt an audacious legal feat: to redefine a far-right activist dressed in Viking garb as a peace-loving yoga enthusiast.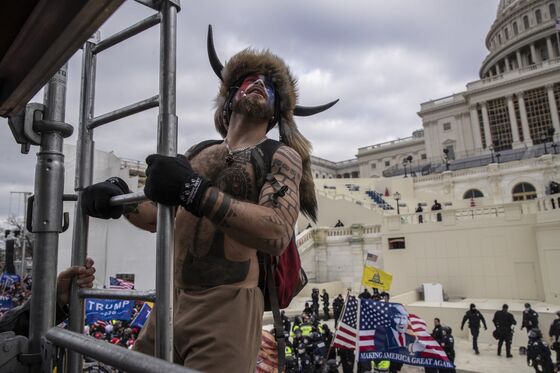 "This is a man whose hero is Mahatma Gandhi," Watkins said of Chansley, who is charged with violent entry, disorderly conduct and obstruction of an official proceeding, among other offenses. "Look at the fur and look at the horns and look at the tattoos surrounding the nipples of this bare-chested man. I doubt there's one person in North America who would say that's the man I want leading me in a charge to overthrow the government."
In the face of widespread video evidence that horrified the nation, Watkins is part of a growing corps of lawyers looking for ways to defend more than 135 people charged with everything from assault and trespassing, to stealing government property, and conspiring to subvert democracy. As part of that effort, lawyers are poring over reams of social media posts and news footage for any evidence that could be used to change the public perception of their clients or minimize their roles in the Capitol siege, which left five dead and injured more than 100 police officers.
Some are planning to blame Trump, the former president who was impeached on charges that he incited the riot, and invoke a legal concept known as the public authority defense -- the argument that the rioters were simply following orders from a government official. It's not clear that such a strategy will succeed in the courtroom.
For some accused rioters, one tack for the defense may be to show that they didn't have the intent to do harm or cause damage, which prosecutors must establish for a conviction to stand. Attorneys with clients facing lesser charges are looking to poke holes in what may be flimsier evidence.
And some lawyers have almost certainly begun thinking about how they can get the best plea deal for their clients, whether that involves cooperating with the government or admitting to a crime but not going to jail, legal experts said.
"There's no defense" for rioters who were caught on camera stealing furniture or smashing windows, said Jeffrey Bellin, an expert on criminal law at William & Mary Law School. "But the ones where there's just a picture of a person in the Capitol, those will be more challenging" for prosecutors to prove, Bellin said.
Rioters who have not been accused of violence are likely to point to the lax conduct of the police and argue that they didn't realize it was illegal to enter the Capitol, lawyers said.
"We see some individuals walking throughout the building who are not destroying any property and are doing nothing more than being in the Capitol," said Robert Jenkins, a lawyer in Virginia representing Joshua Pruitt, one of the first to be charged. "Regardless of what type of T-shirt they had on, or hat they had on, or even words they may have been saying in the building, none of that makes it a crime."
In almost every case that the U.S. has brought so far, the evidence that the accused rioters were inside the Capitol is virtually irrefutable because of the trail of videos and photos of the mob posted to social media. But defense lawyers are still parsing the reams of footage in search of evidence that might undermine the charges or prompt a more lenient sentence if their client is convicted. Such evidence could include a clip of a defendant cooperating with police officers or telling others to leave the building.
"We've done a comprehensive vetting of the video," Watkins said. "There is zero video footage that we have that displays any sort of violence or malfeasance of any nature on the part of our client. We have identified numerous instances and demonstrations of our client admonishing people to go home."
Trump appeared to send his supporters the opposite message during his speech at a rally before the riot, urging the crowd to "show strength" and "fight much harder." While most legal experts say that federal prosecutors would have a hard time charging the former president with incitement for those comments, his role in egging on the crowd could allow defense lawyers to argue that the rioters are not guilty because a government official gave them permission to act.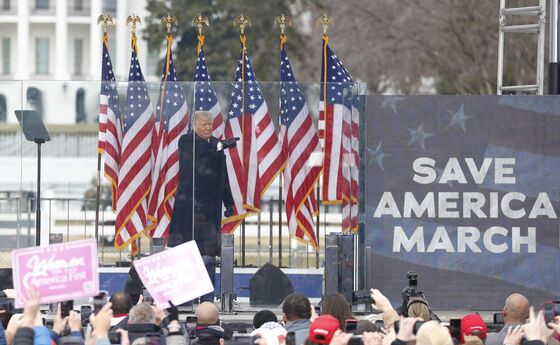 "If you want to lay blame for the sinking of the Titanic, all you have to do is look at the captain," said Joseph Low, who works as a criminal defense attorney in California. "Whether you agree with Trump or not, he was the president at the time. He was the commander in chief. They followed him."
Some legal experts question whether blaming Trump will result in acquittals. "That defense didn't work at Nuremberg, and it's not going to work here," said Florida criminal defense lawyer Joel Hirschhorn, referring to the post-World War II trials of Nazis, some of whom argued they were just following orders.
Still, in preliminary hearings and court filings, alleged rioters and their lawyers have begun framing the unrest at the Capitol as the result of Trump's violent rhetoric.
Robert Sanford, a retired firefighter who was charged with assaulting a group of police officers at the Capitol, told a friend that he joined the riot at "the president's instructions," according to legal records.
Some lawyers have suggested they may employ that same defense in court. At a bail hearing on Jan. 15, the defense attorney representing Richard Barnett, a 60-year-old from Arkansas who was photographed with his feet on a desk in House Speaker Nancy Pelosi's office, noted that "nobody who stepped up to the lectern that day, who got on the podium and provoked this event, has been called before the bar of justice."
The photographs of Barnett at the Capitol -- where he left an obscene note in Pelosi's office -- turned him into one of the poster boys of the insurrection. Barnett's lawyer, Anthony Siano, spent much of a recent bail hearing attempting to paint a different picture, calling witnesses who attested to Barnett's honesty and good character. A friend said Barnett had rescued his Pomeranian. A relative recalled that he had once driven her to the hospital after she had a gallbladder ailment.
"Mr. Barnett has a clean and safe home," Siano told a federal magistrate in Arkansas. "He has a stable home life. He answers calls for need and people in need in his community. He's needed by his family."
At the end of the five-hour hearing, the magistrate granted Barnett bail, allowing him to live at home under strict conditions. But the victory was short-lived. That evening, a federal judge in Washington blocked the ruling, sending Barnett to jail while his case proceeds.