Capitec Gains Most in Seven Months as Bank Shines in Tough Times
(Bloomberg) -- Capitec Bank Holdings Ltd. gained the most in more than seven months in Johannesburg as the lender impressed analysts with its earnings and plans for growth despite a sluggish South African economy and the strains on consumers.
The bank, which said Wednesday its client base increased to 10.5 million in six months from 9.9 million, advanced as much as 6.2 percent, the most since Feb. 21. Capitec said it will build a business-banking division as it diversifies away from riskier unsecured lending. First-half profit increased 20 percent from a year earlier.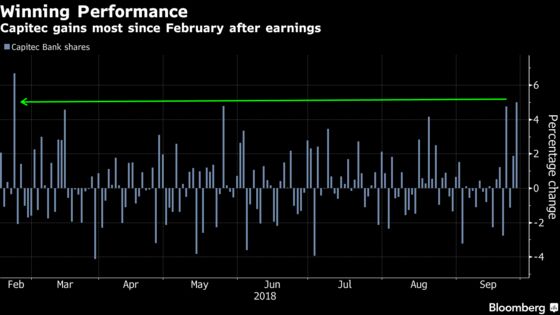 "It looks like a good set of results and it's driven by strong fee growth as the transactional franchise gains traction in the market," said Neelash Hansjee, a banking analyst at Old Mutual Investment Group. "The credit quality seemed to be under control, which is quite a good result in a tough economic environment."
The lender is among four bidders for Mercantile Bank, the South African unit of Portugal's state-owned Caixa Geral de Depositos SA. Capitec expects to know the outcome by the end of next month, after completing due diligence in August, Chief Executive Officer Gerrie Fourie said Wednesday.
"They continue to look for more opportunities," Hansjee said. "Over the last three years they have launched a credit card, they have launched an insurance product and now they are saying they want to get into business banking. That shows that the group is comfortable to diversify its growth and continue to disrupt the financial services market."
Capitec was 5.2 percent higher as of 1:29 p.m., outperforming its local peers and heading for its highest close since Jan. 25, a few days before short-seller Viceroy Research published a report that said the lender may be concealing losses. The bank denied the allegations.
Avior Capital Markets analyst Harry Botha said Capitec's latest earnings showed the divergent trends that the market had become used to -- muted gains in lending revenue, and exceptional results from transactional banking. A focus on lower-risk customers helped to improved its credit figures.
"In terms of the future, meaningful growth in Capitec's credit business is still dependent on South African economic conditions," Botha said. "The credit card business will provide a bit of support for lending revenues, but the trends, with transactional banking growth outperforming, will probably be the same as recent periods."